CHAPTER ONE
Chapter one of this series discovers what it means for the younger queens to reach their goals in drag and how their sisters help mold them into becoming who they want to be. Instead of learning from older queens, many of these performers learned the craft from watching RuPaul's Drag Race and YouTube.
Tita Titsling waves a LGBTQ+ flag during the 2nd anniversary of Scarlet in Honolulu, HI. Tita is a Texas native and middle generation queen who moved to Hawai'i several years ago. She is the host of Scarlet Honolulu's Fresh Fish Drag Revue and drag mother of Apple Aday and Water Melone.
Lolita (left) and Marina Del Rey (right) both glance in the mirror before going onstage. Lolita, 22, is one of the youngest drag queens in the scene, while Marina has been performing for over a decade. Marina is the mother of the Del Rey family, which is one of the most prominent drag names in Hawai'i. Just recently, Lolita joined the Del Rey family and Marina became her mother.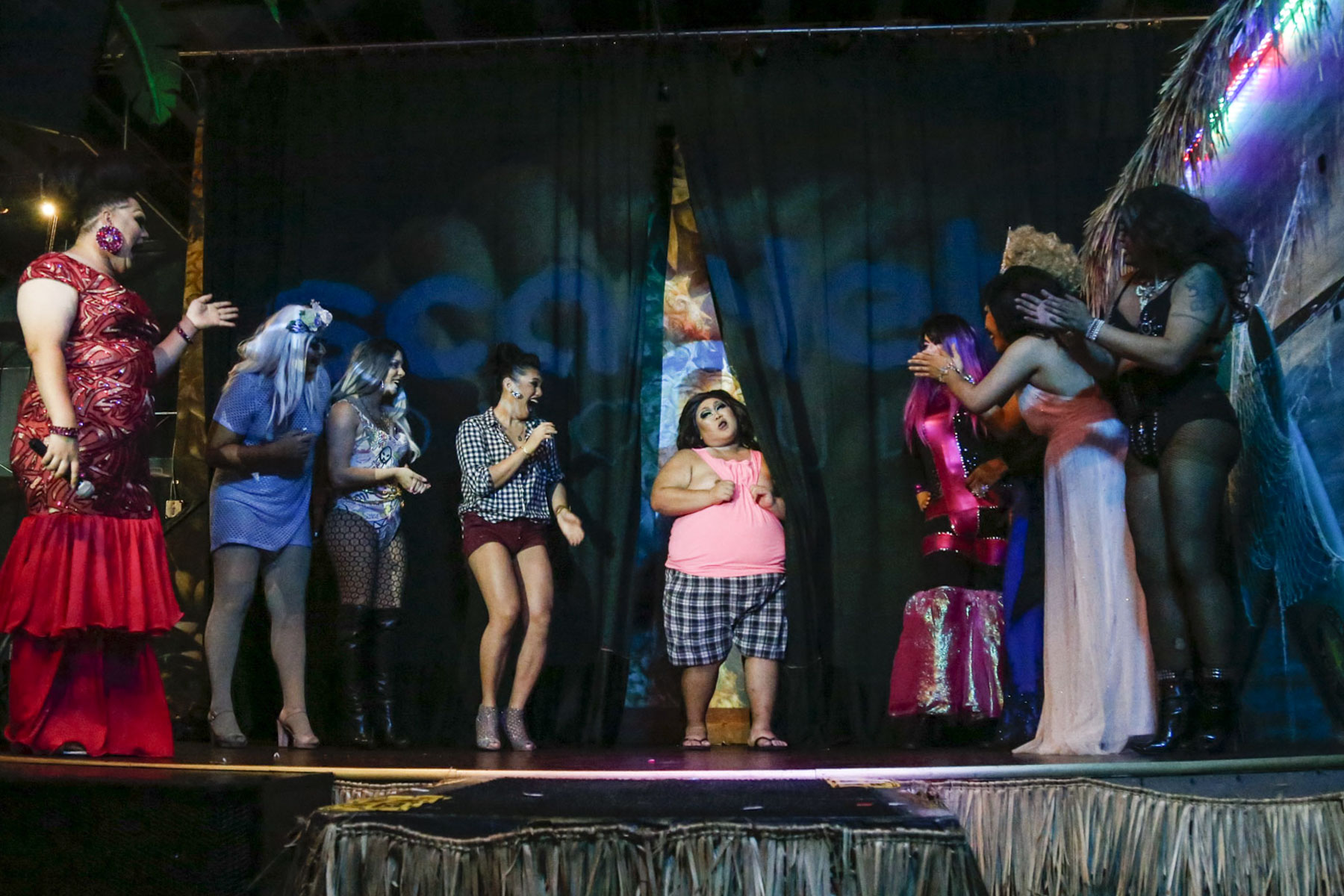 Water Melone (middle) is cheered on by her friends as she enters the stage dressed in boy for Kalista Fox's (far left) fundraiser.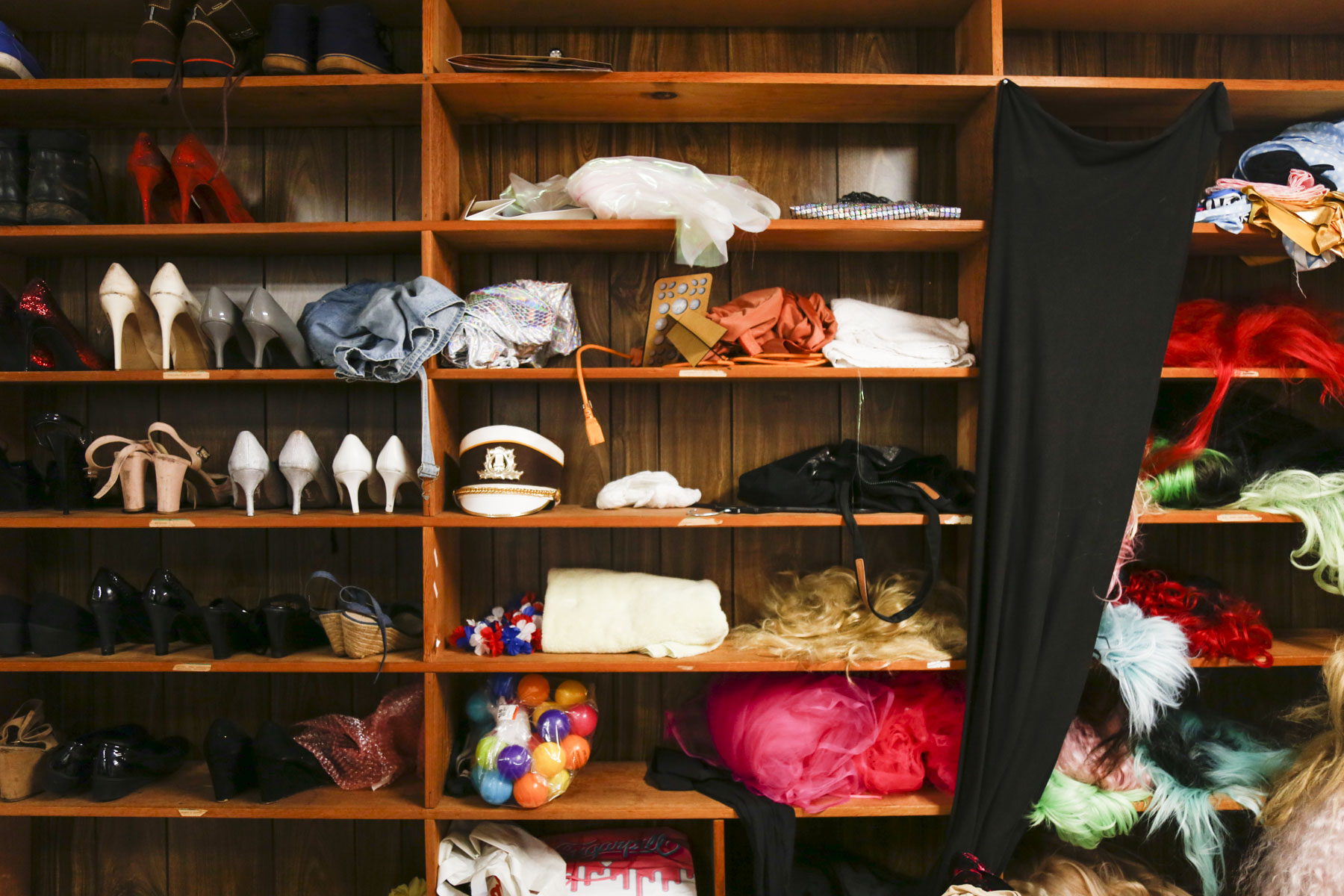 Drag accessories are displayed on a shelf in what Apple Aday, an Aiea-based queen, calls "The Drag Dungeon". Apple Aday shares the dungeon with her former high school classmate, Water Melone, who can't keep drag accessories at her house.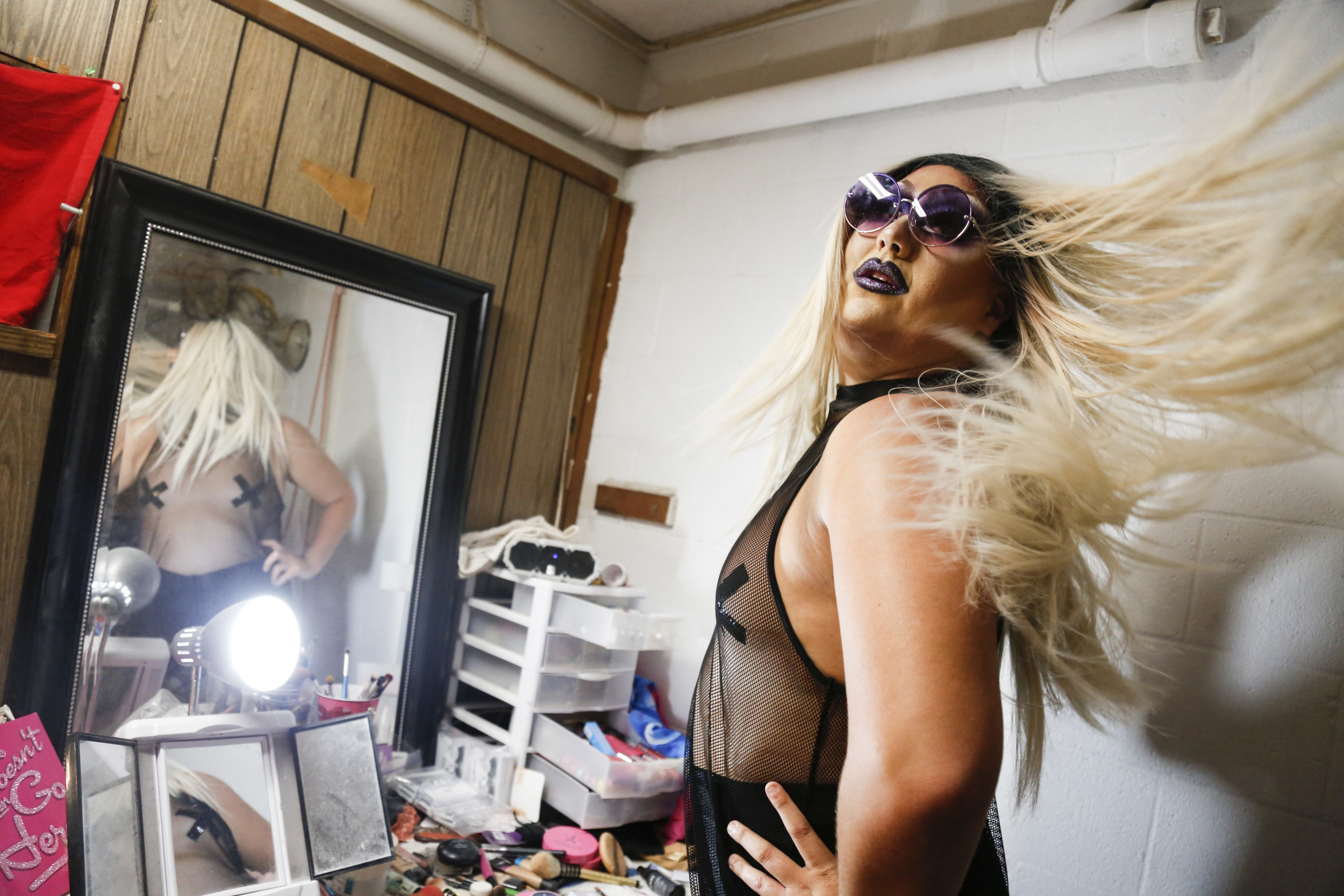 Apple Aday poses for a portrait in her Aiea, HI home.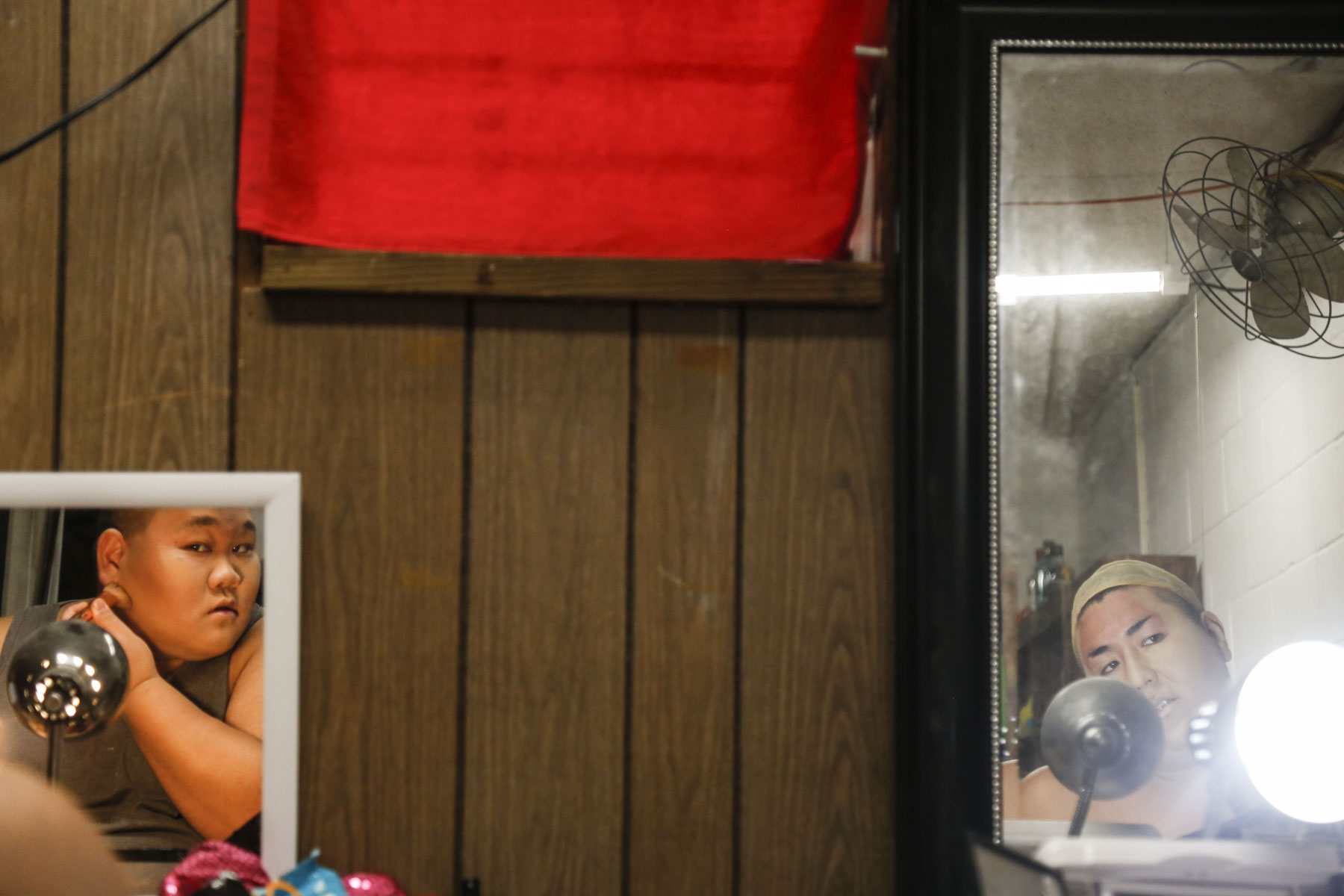 The Fruity Queens prepare for a night out in "The Drag Dungeon", which is located in Apple Aday's Aiea, HI home.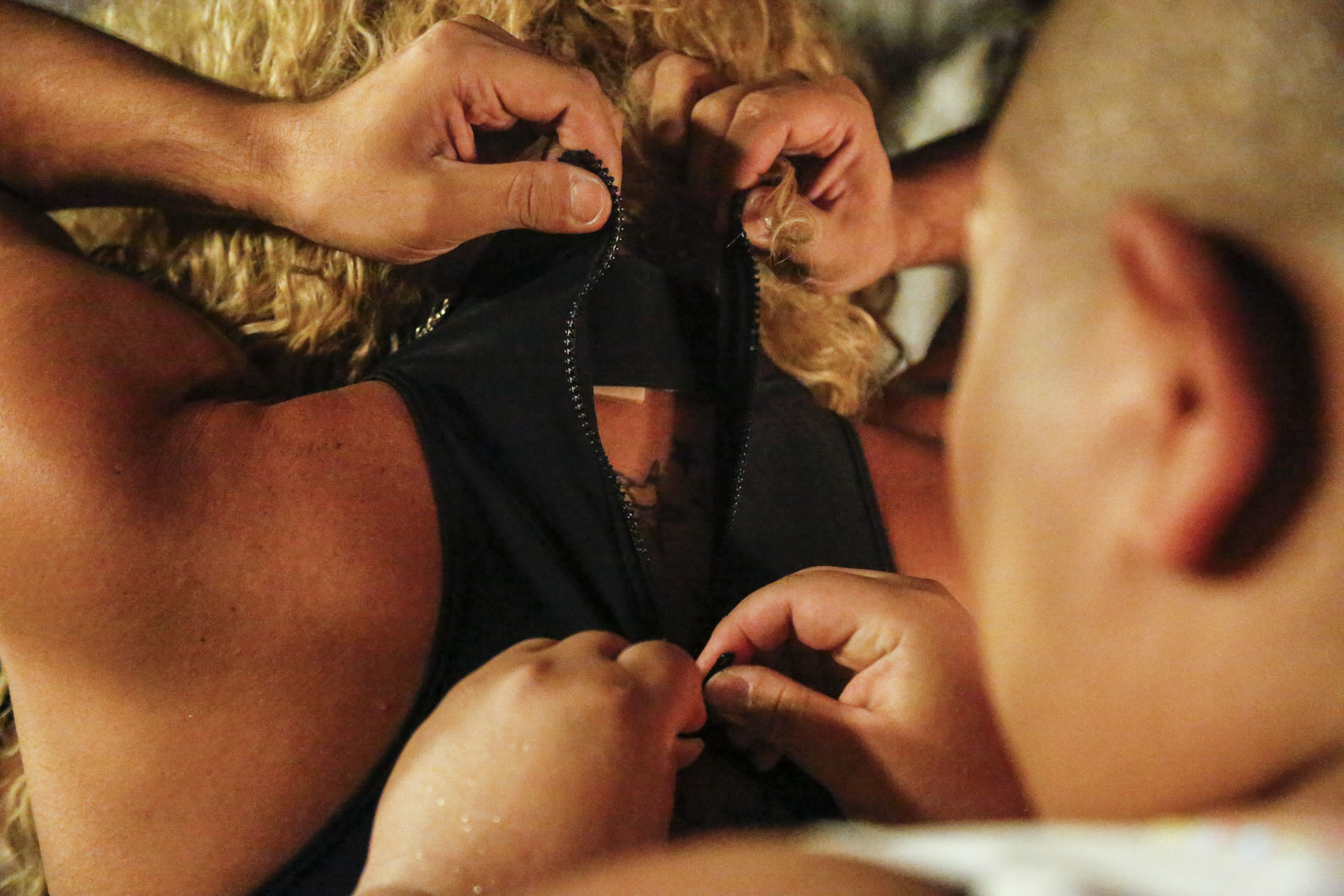 Jerica Benton (left), a middle-generation queen, gets zipped up before a performance by Water Melone (right).
Lolita (left) greets Marina Del Rey (right) with a kiss on the cheek. Many aspiring queens look up to Marina as a role model. "Drag families will come back when the right girls step up to define them. It's more of a brotherhood now. Sisterhood was with my generation. The houses are left with us and the kids are supposed to carry it on. They should be forming their own houses but no one cares about names anymore," says Del Rey. Lolita wants to eventually start a drag family of her own. When I first met her, she didn't have a drag mother, but often turned to Marina and Lilith Satana for advice. She recently asked Marina to become her official mother after calling her mom for some time. She is now the youngest Del Rey child.
Cast members of Diamonds in the Muff stand on stage during a rehearsal in Honolulu, HI.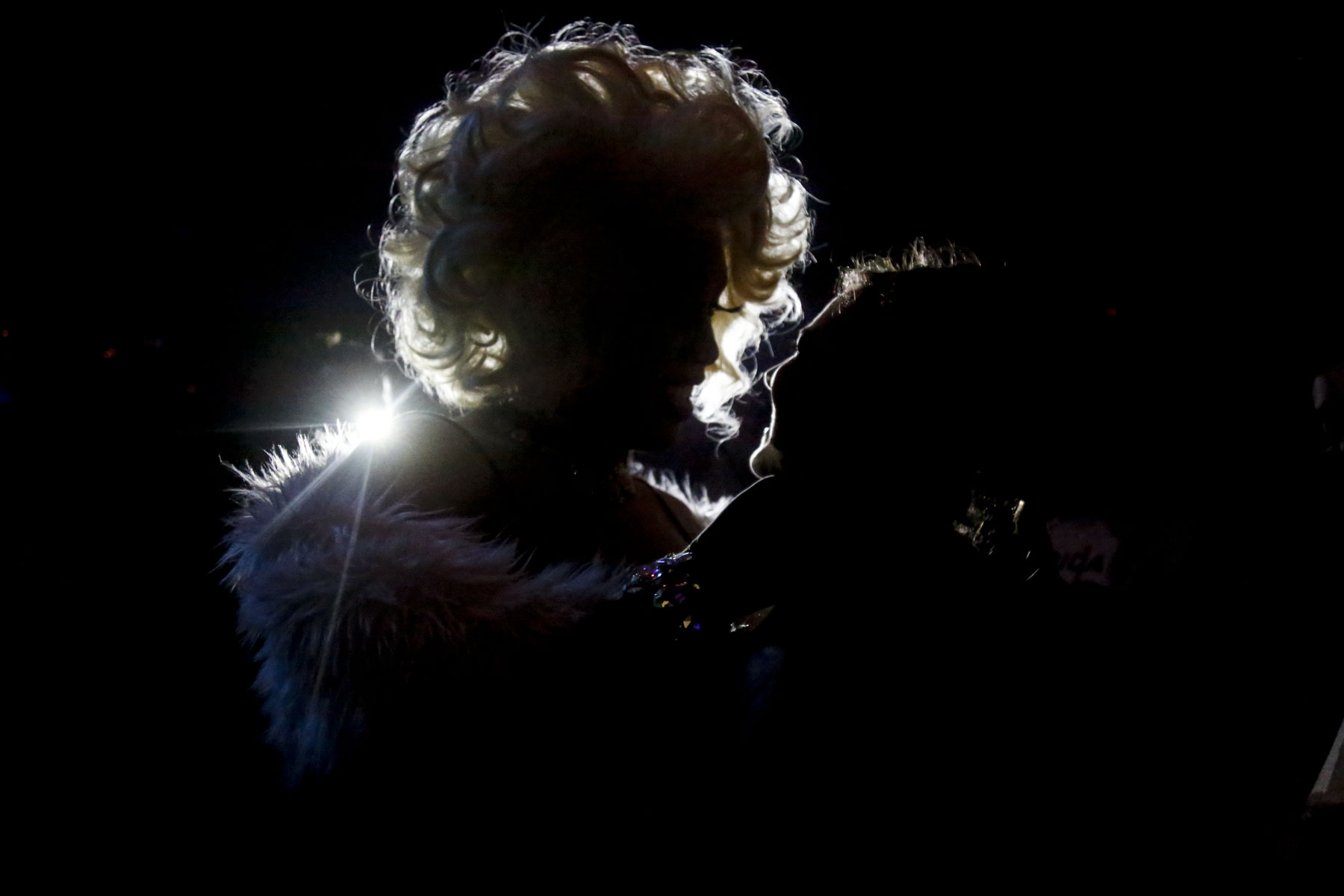 Lolita caresses an audience member during a performance at Scarlet in Honolulu, HI. Lolita was born in the Phillippines and raised in Waianae, Hawai'i.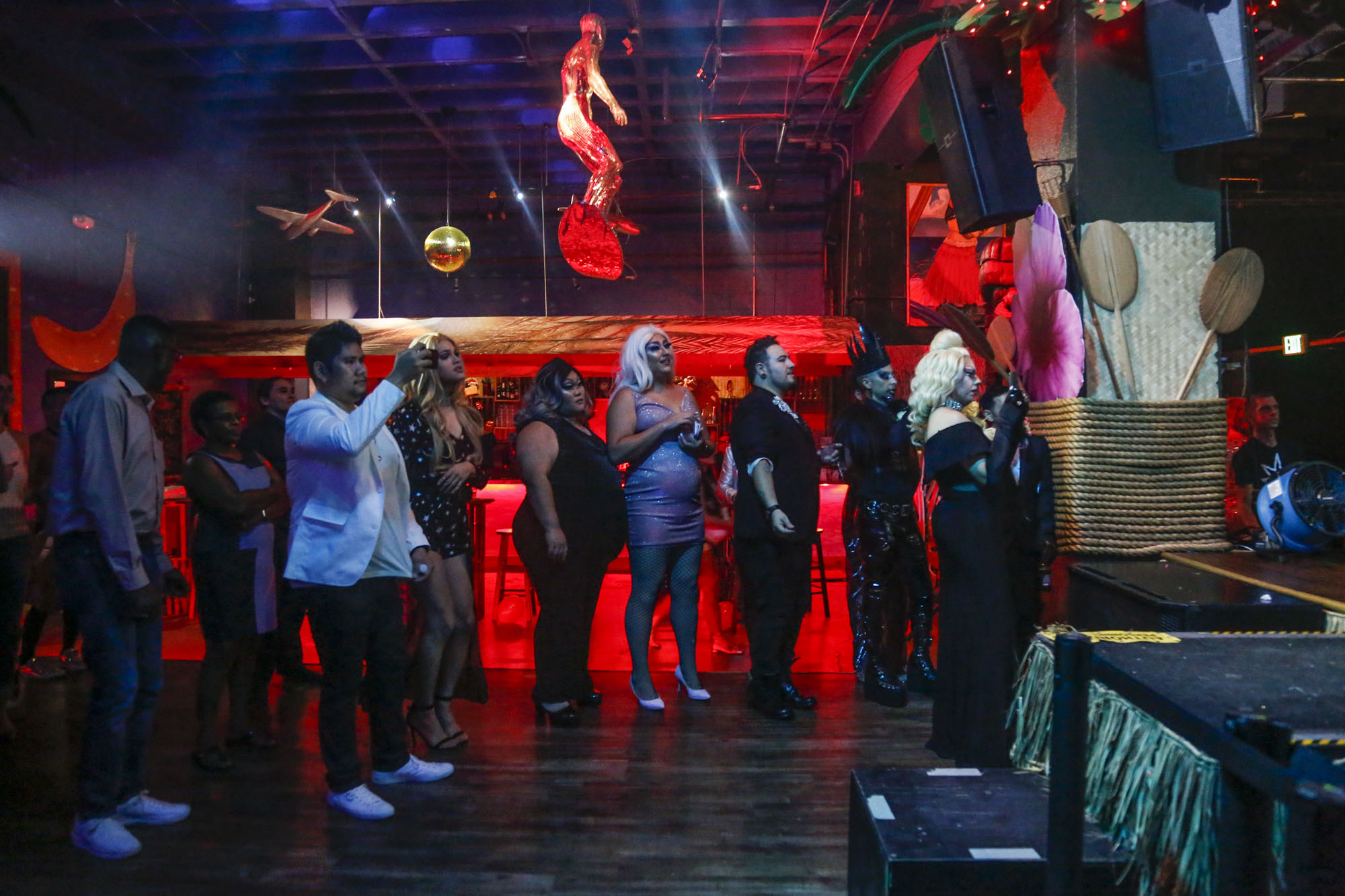 (From left to right) Kyle Wong, Tory VV Vixen, Water Melone, Apple Aday, Joseph Brune, Jason Victorino and G Dolce wait for a performance to start during the first drag prom at Scarlet Honolulu.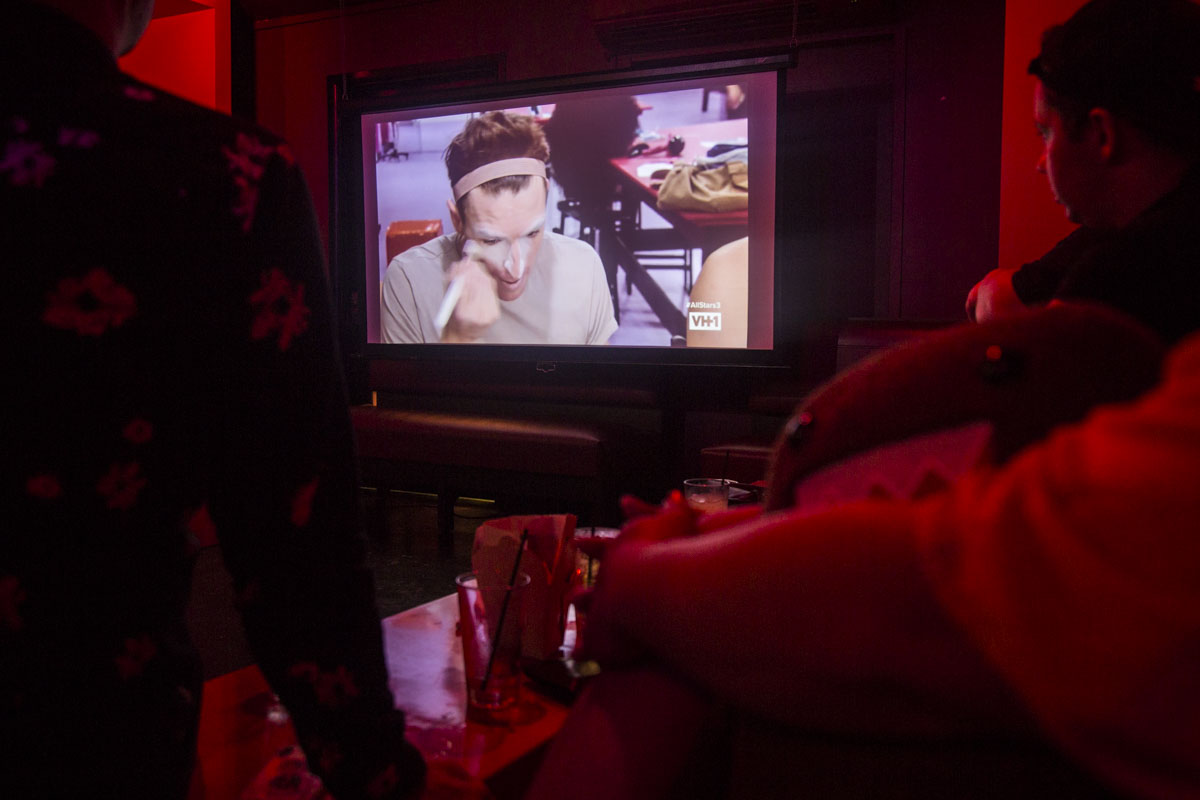 (From left to right) Marina Del Rey, Leila Del Rey and Aria Del Rey watch RuPaul's Drag Race All-Stars 3 at a Wang Chung's in Waikiki, HI. Many of the younger queens are heavily influenced by Drag Race.
Aria Del Rey (left), Lolita (middle), and Apple Aday (right) share a laugh together outside of Scarlet in Honolulu, HI. They all consider each other sisters but rarely get to spend time together outside of the club. Aria Del Rey has only been doing drag for a few months and just recently became a part of the Del Rey family.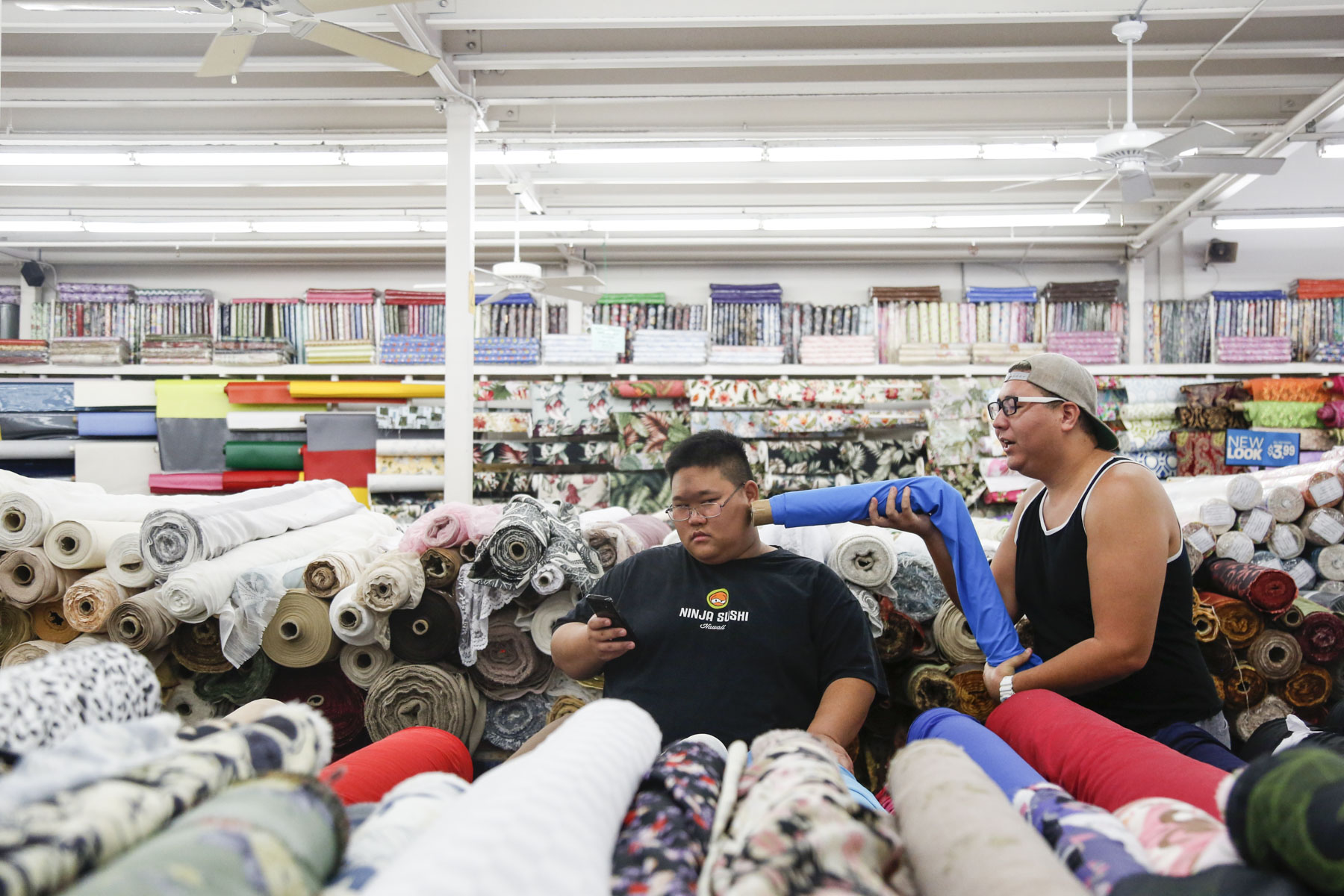 The Fruity Queens shop for fabric together at Fabric Mart in Aiea, HI. Water Melone (left), otherwise known as Keone Oka, hasn't fully come out to her family yet and keeps all of her drag attire/accessories at Apple Aday's, otherwise known as Tim Keisuke Short's, house. They are both the same age and live down the street from one another.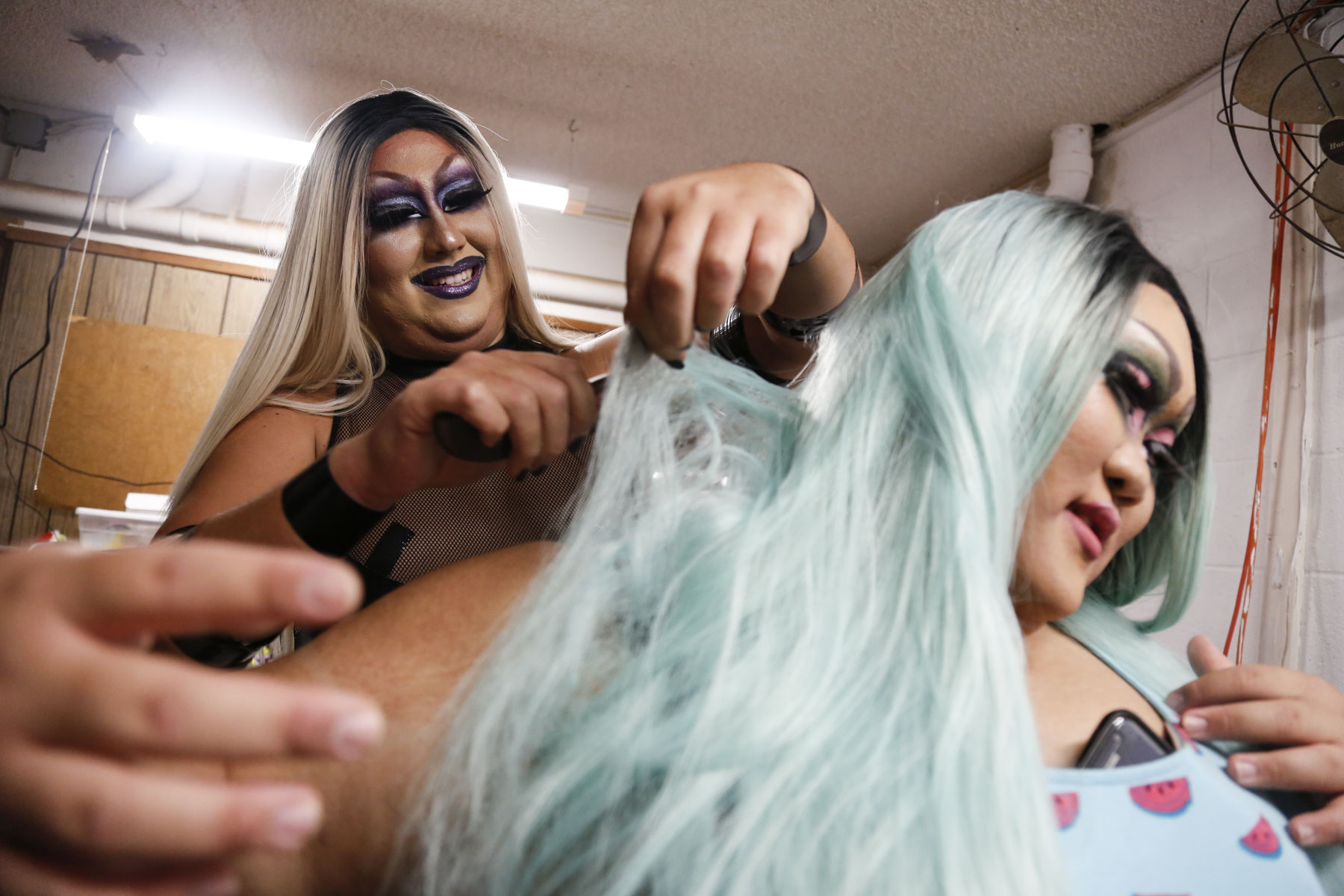 Apple Aday (left) brushes Water Melone's (right) hair before heading out for a night at the club. Apple and Water both went to Aiea High School together and bonded over RuPaul's Drag Race after they graduated. They now perform together as the Fruity Queens regularly at Scarlet in Honolulu, HI.
Dav Cal (far right) teaches Water (far left) and Lolita (middle) how to stone a bra.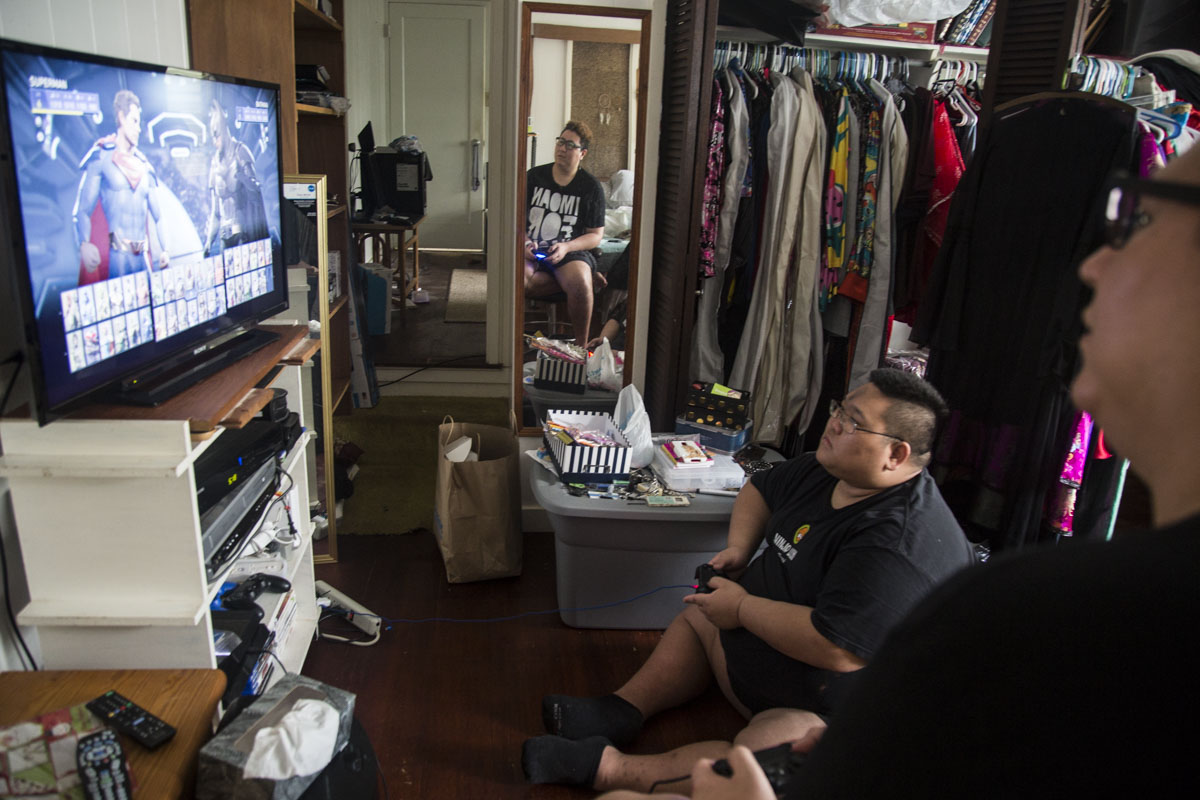 The Fruity Queens play video games at Kalista Fox's (a fellow drag queen) home in Aiea, HI.
Lolita (right) holds Dav Cal (left) back as they joke around with Water Melone (front) and talk about their drag at Apple Aday's house in Aiea, HI.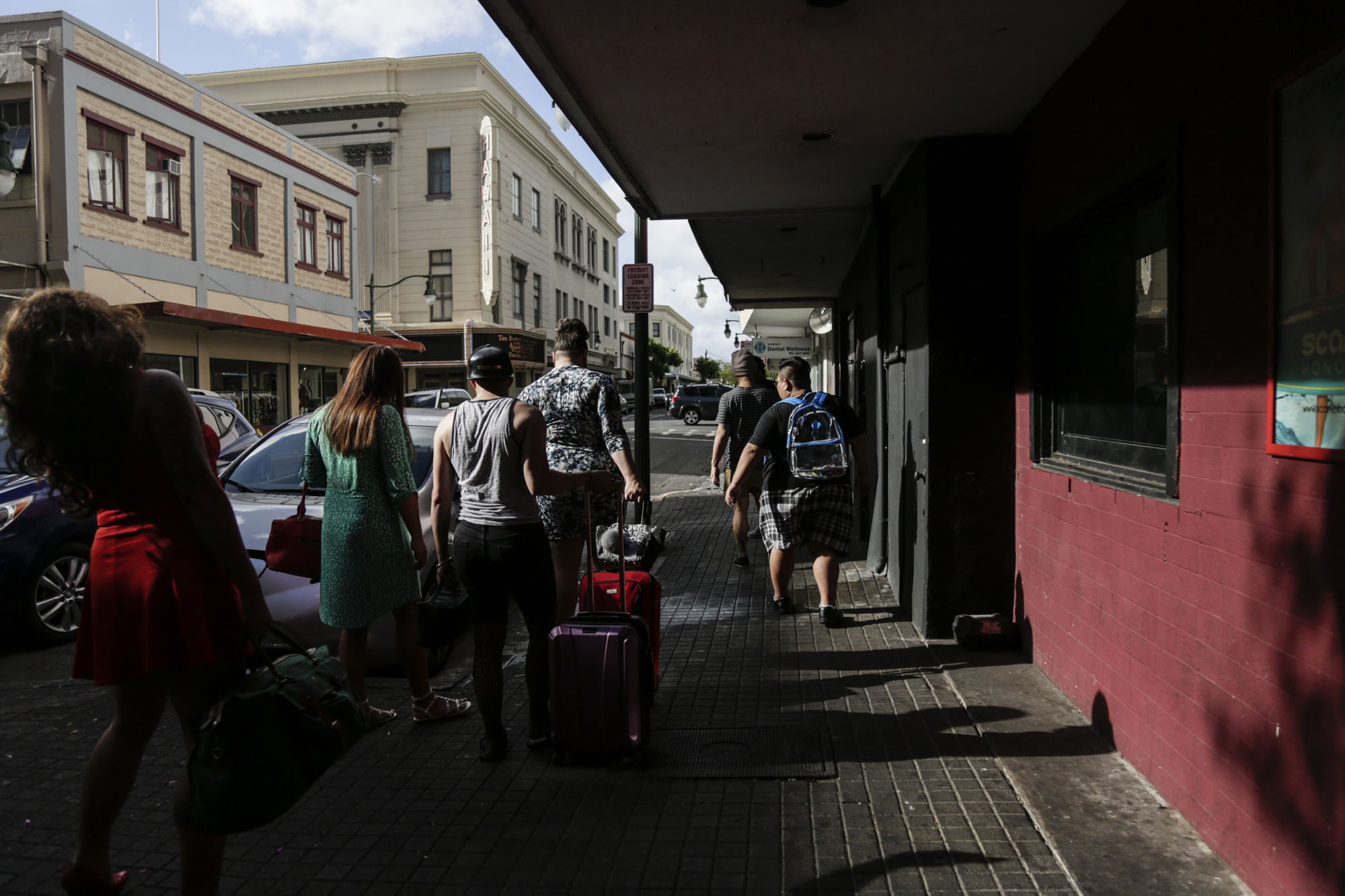 Some of the queens leaving Scarlet Lounge after the Diamonds in the Muff drag brunch takeover.
Apple Aday (left) helps Lolita (right) carry her drag suitcase to the club.
(From left to right) Apple Aday, Aria Del Rey, Lilith Satana and Water Melone eat dinner at Zippy's, a local food staple, after a long night out at Scarlet. The four often go to the Makiki Zippy's after their shows and call this location "the gay Zippy's".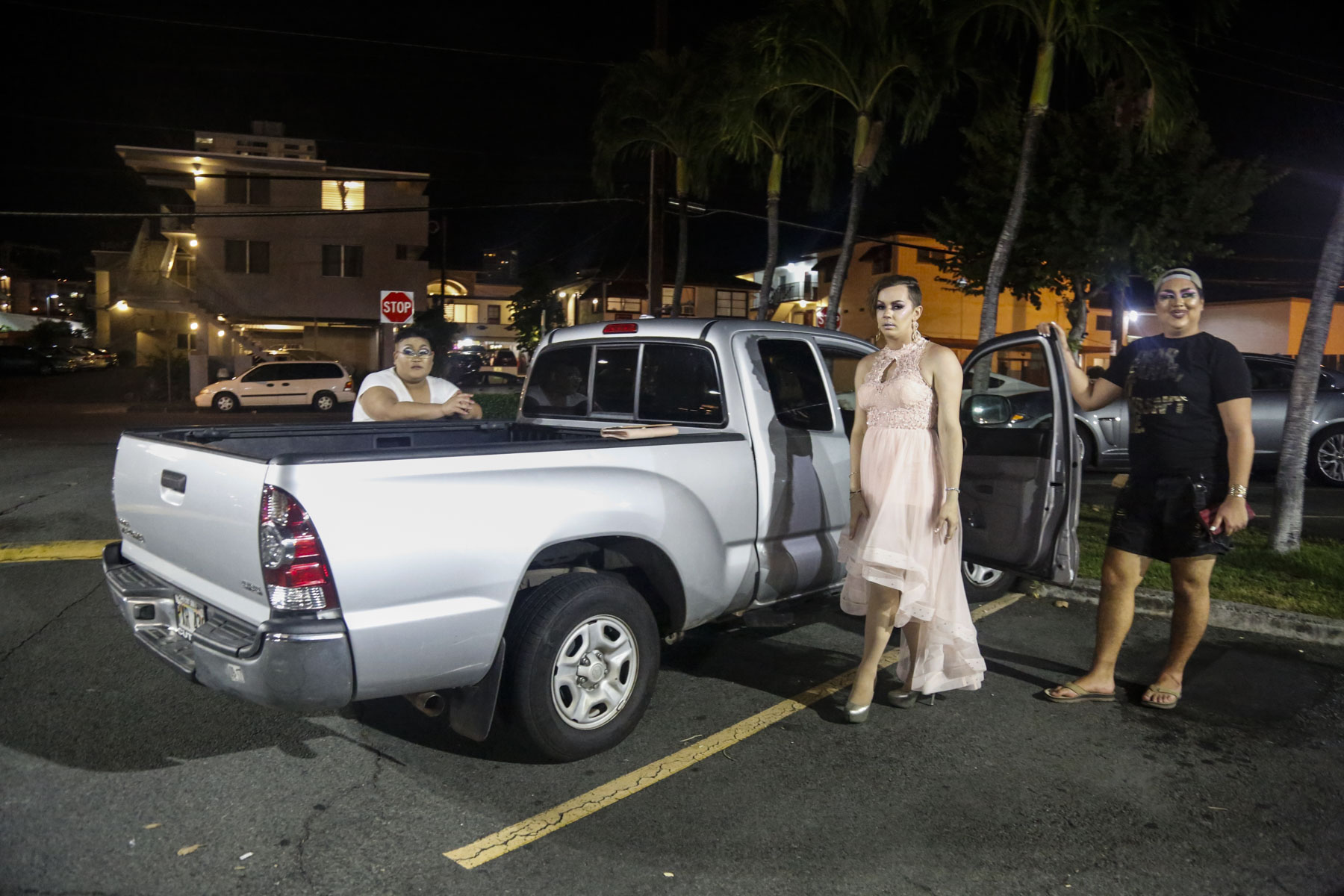 (From left to right) Water Melone, Aria Del Rey and Apple Aday pose for a portrait in front of Water Melone's truck at Zippy's in Makiki, HI after Drag Prom.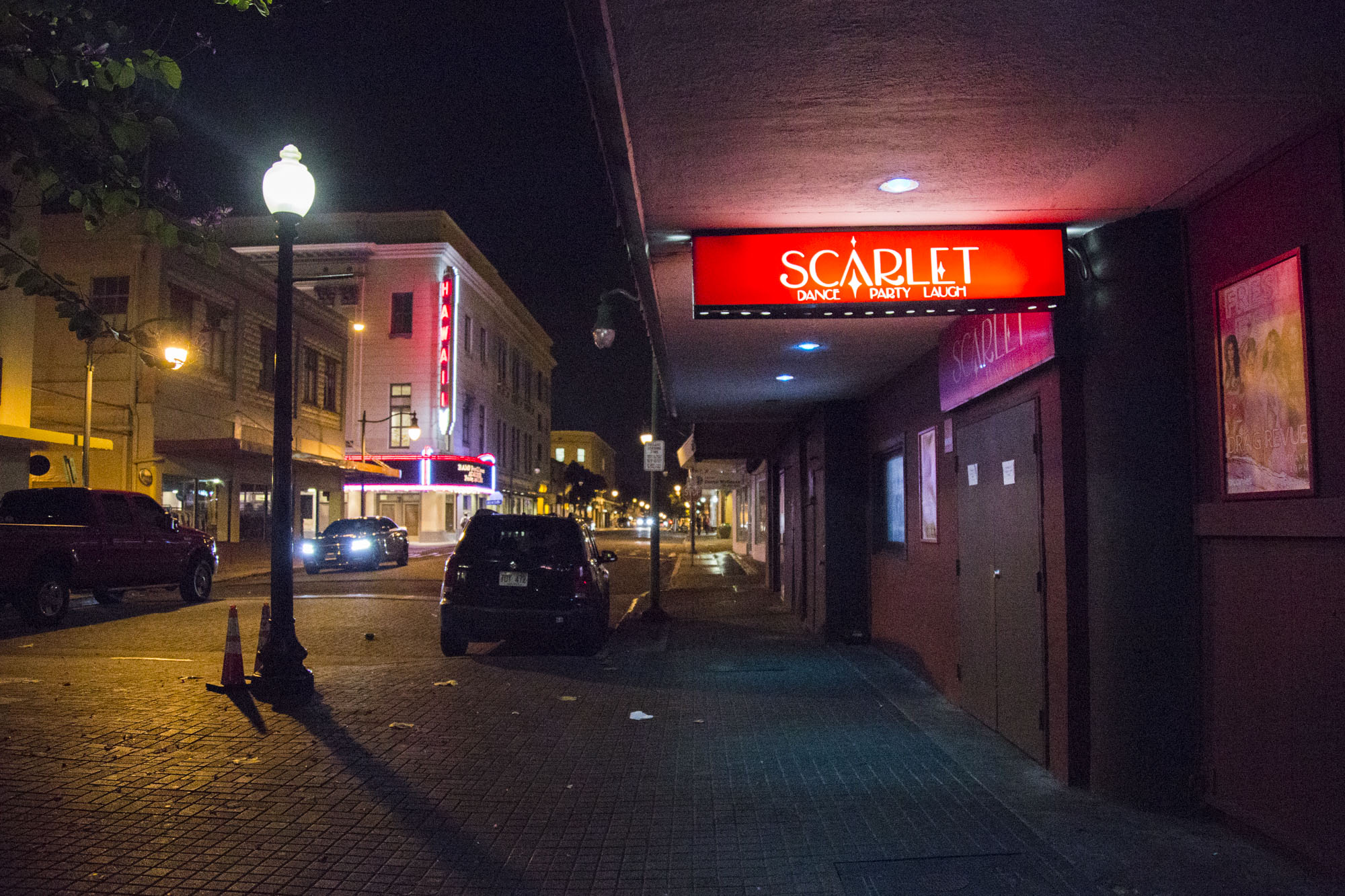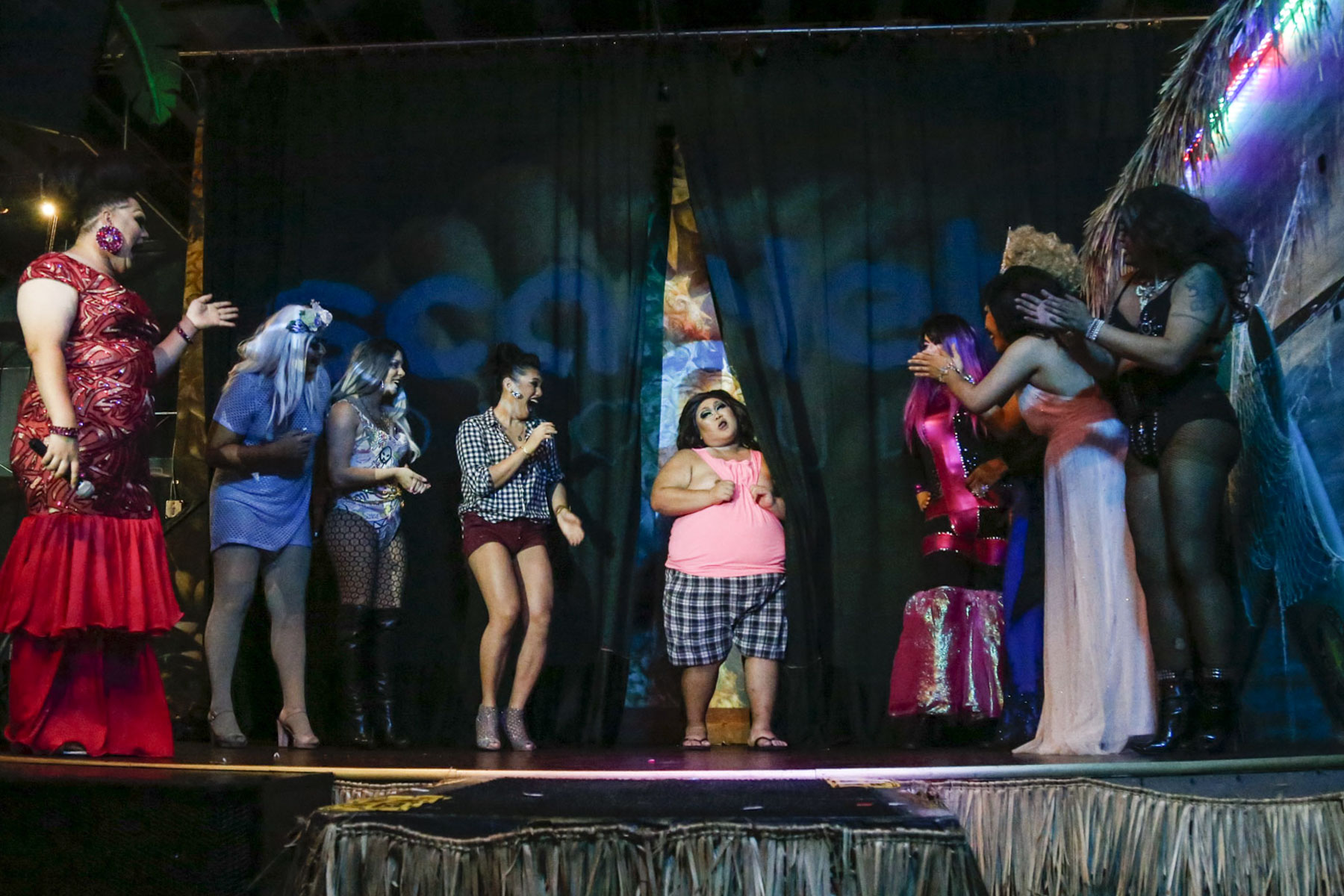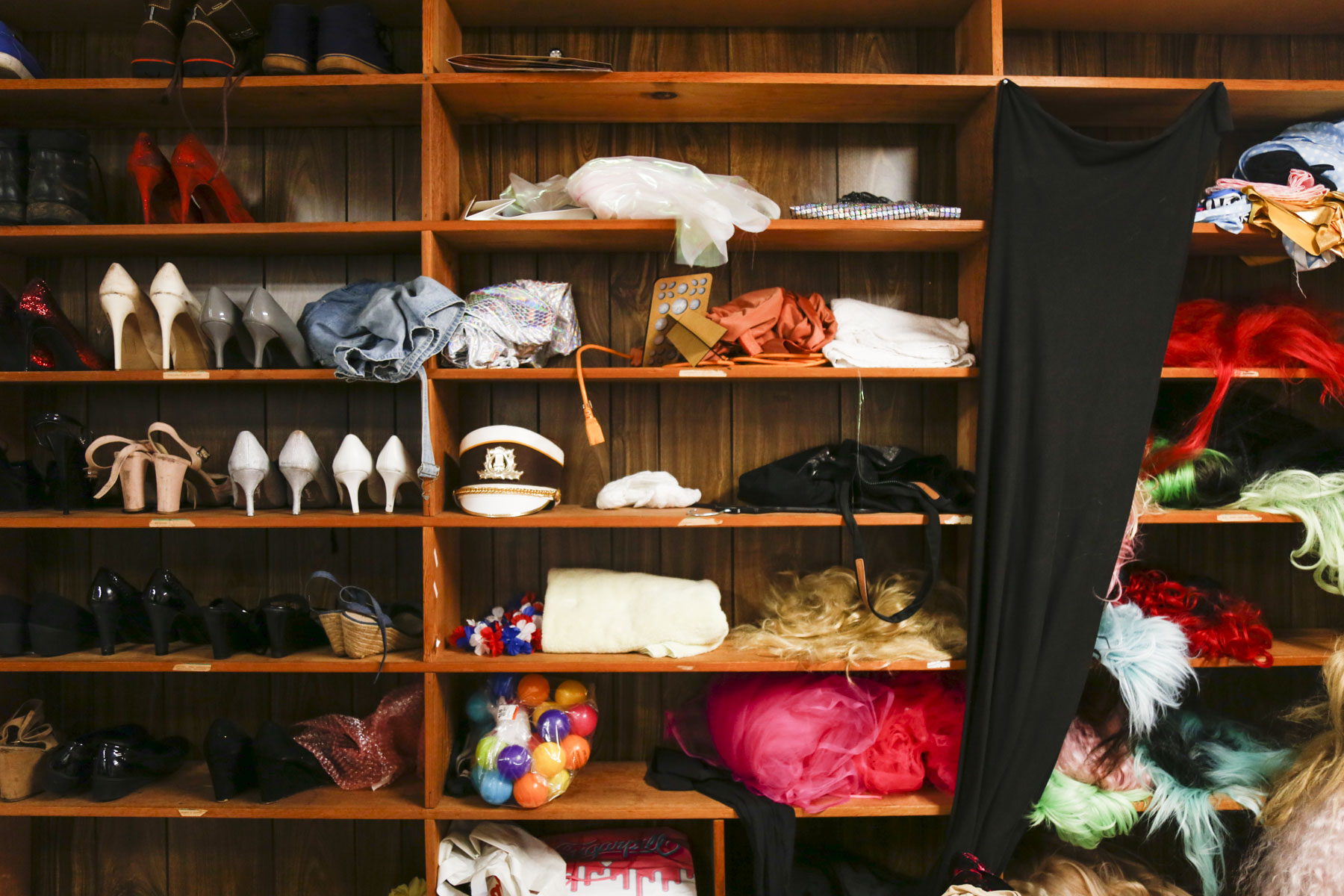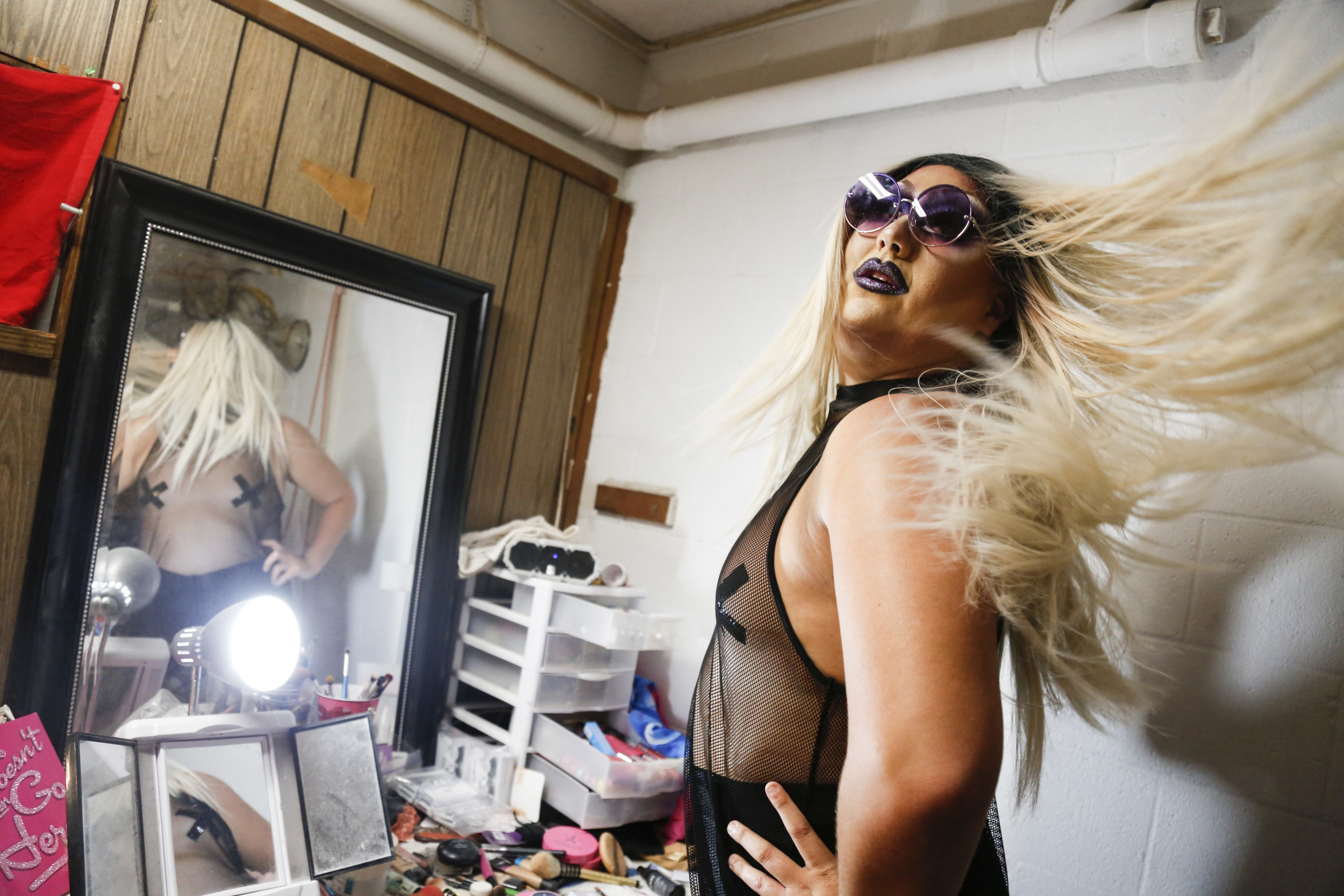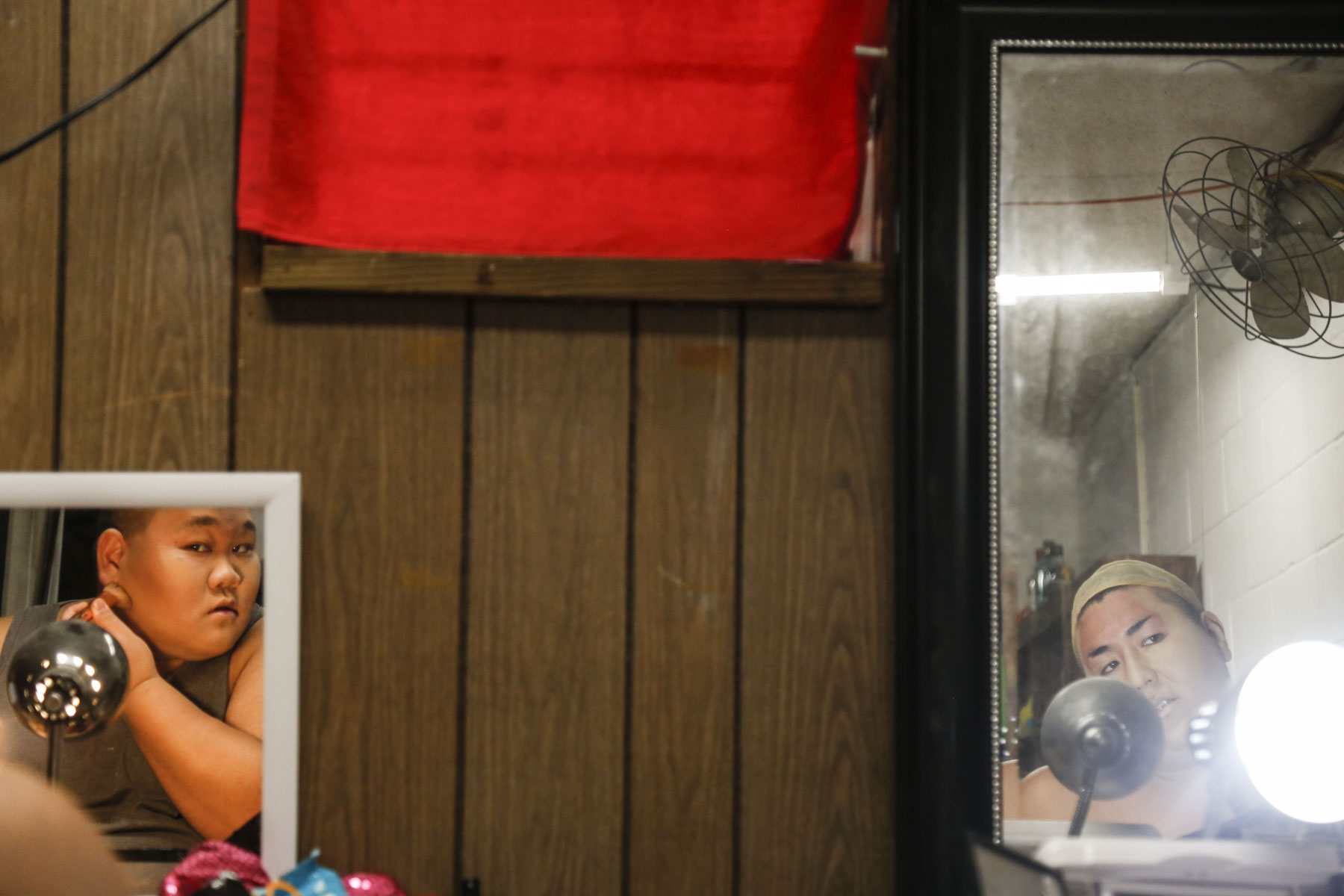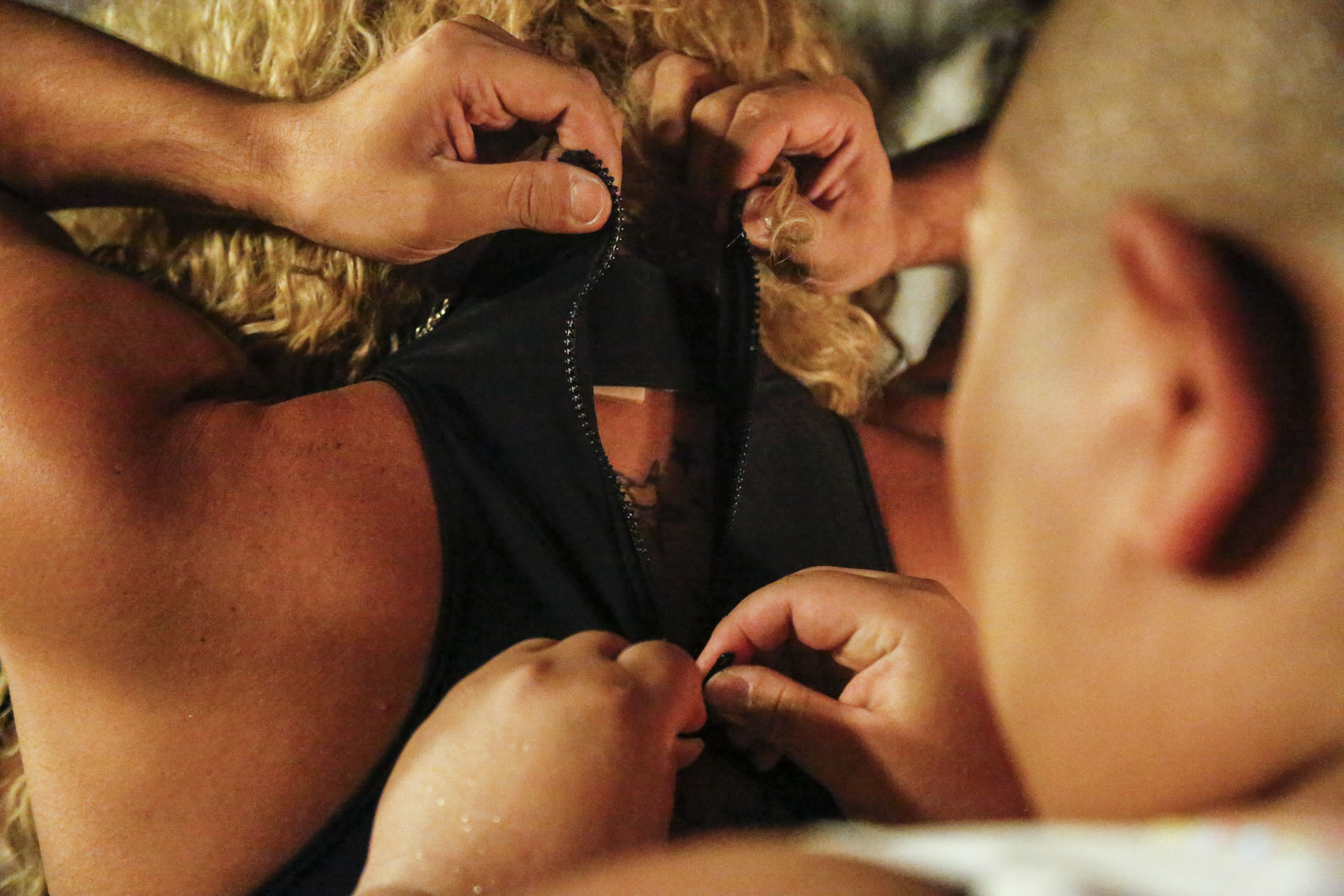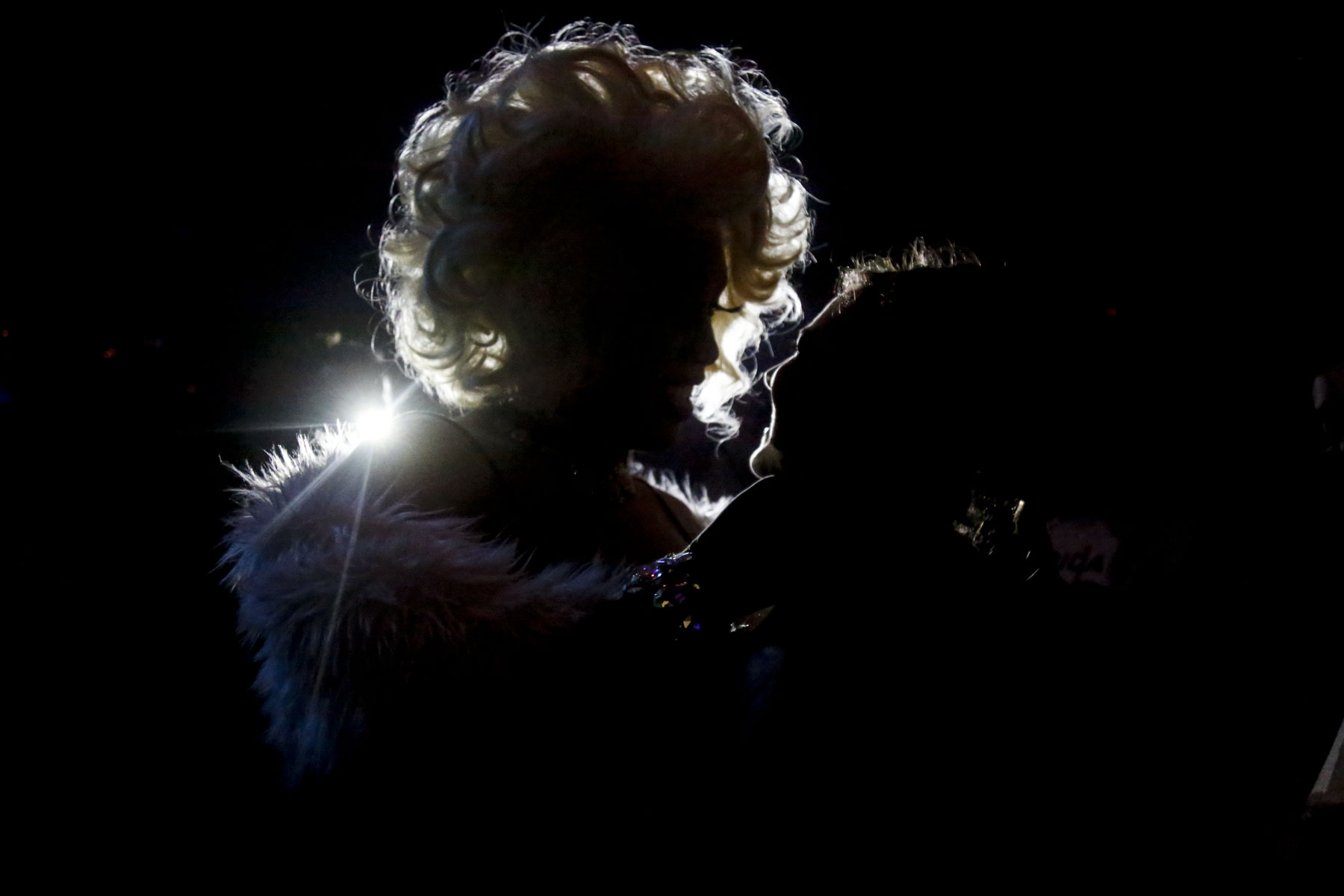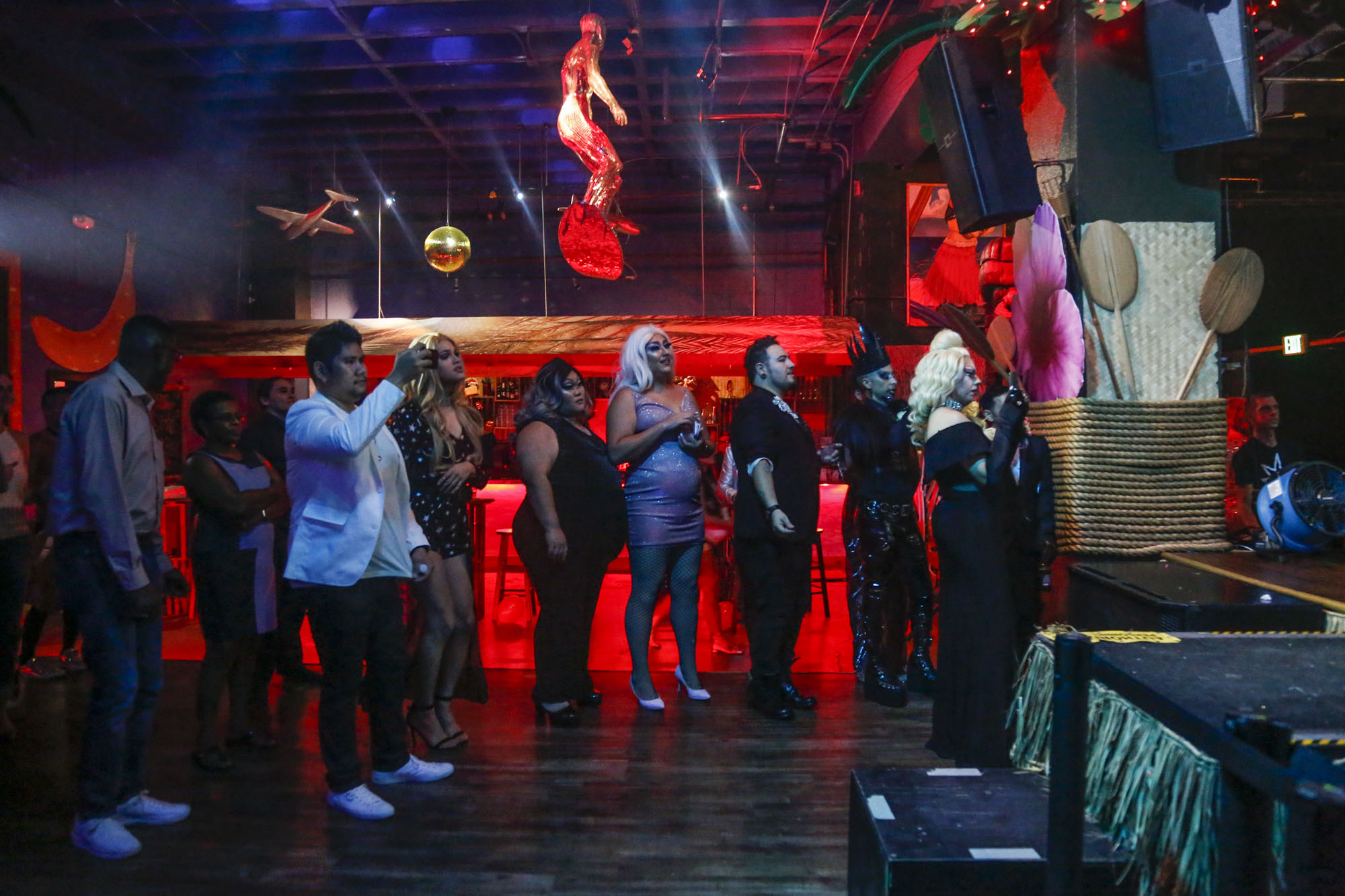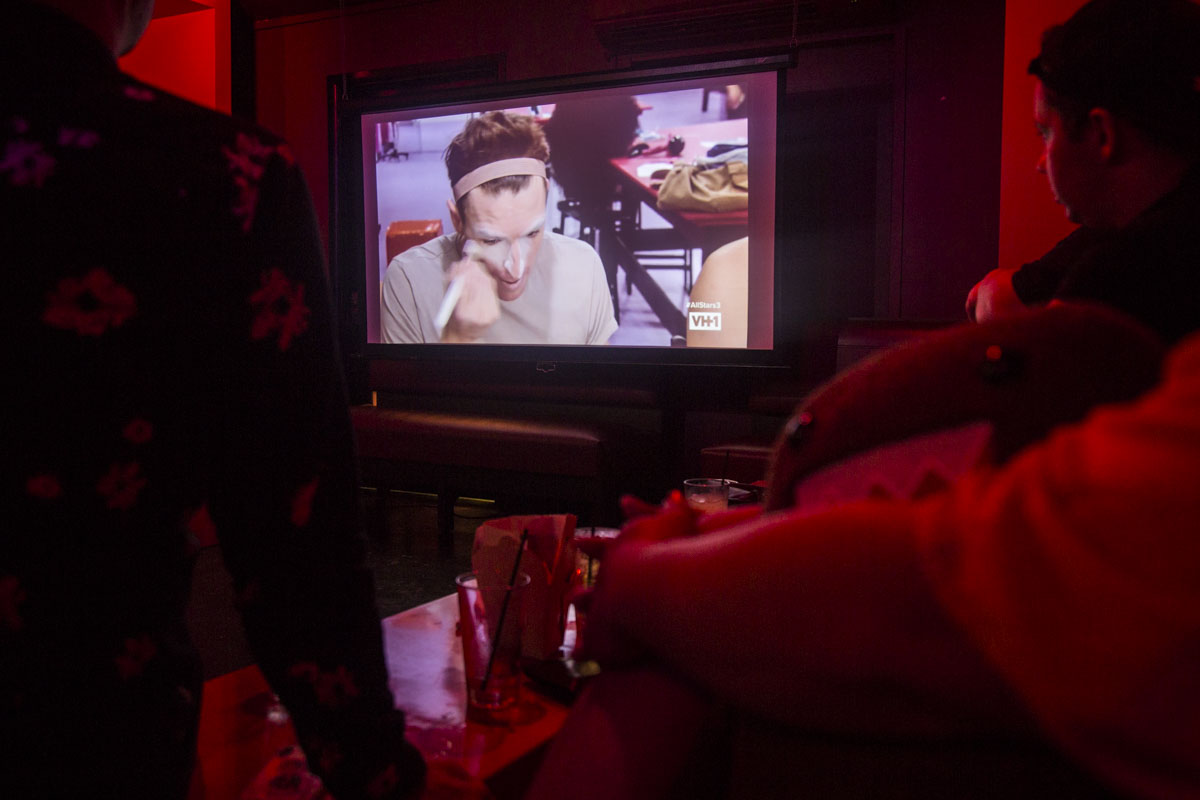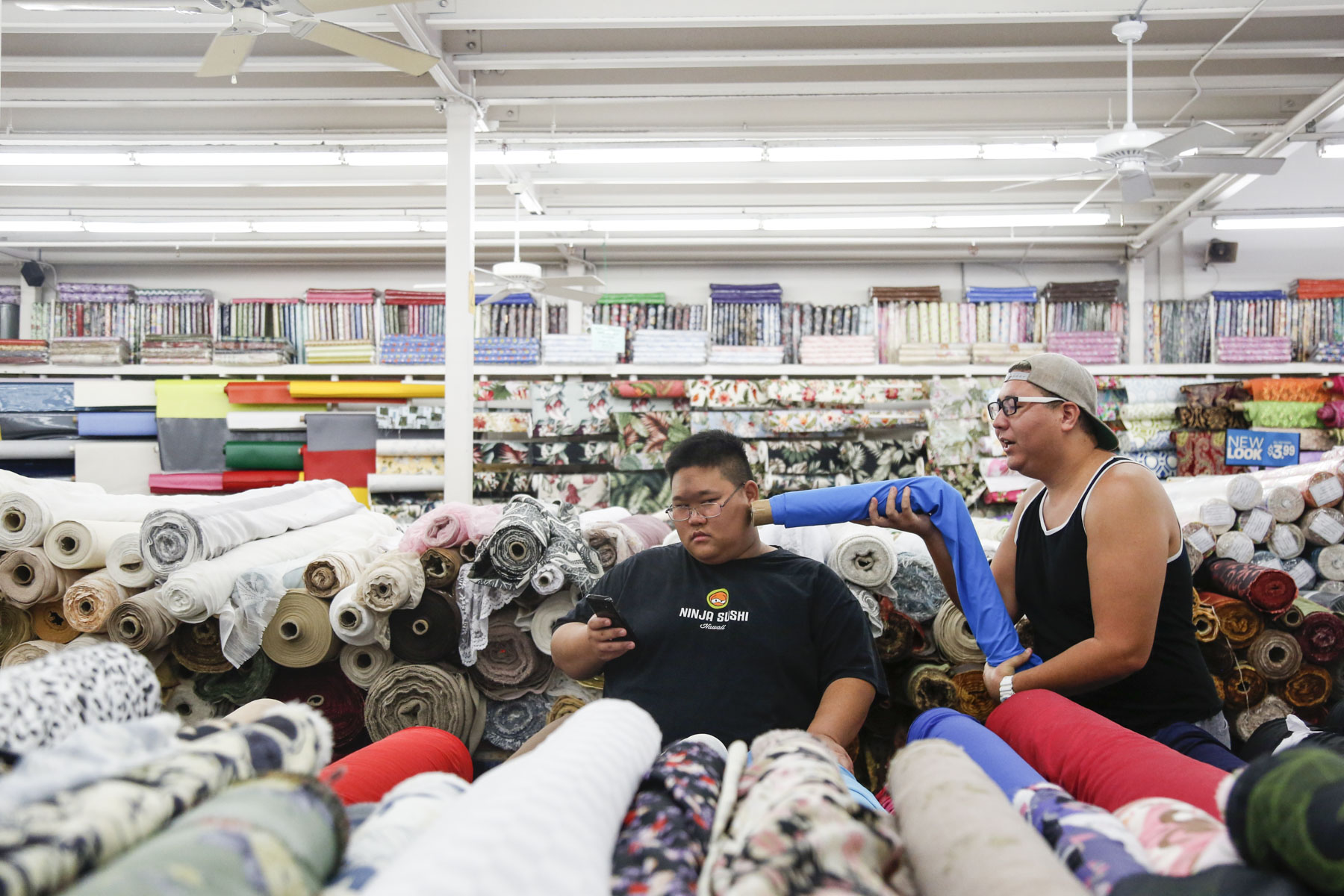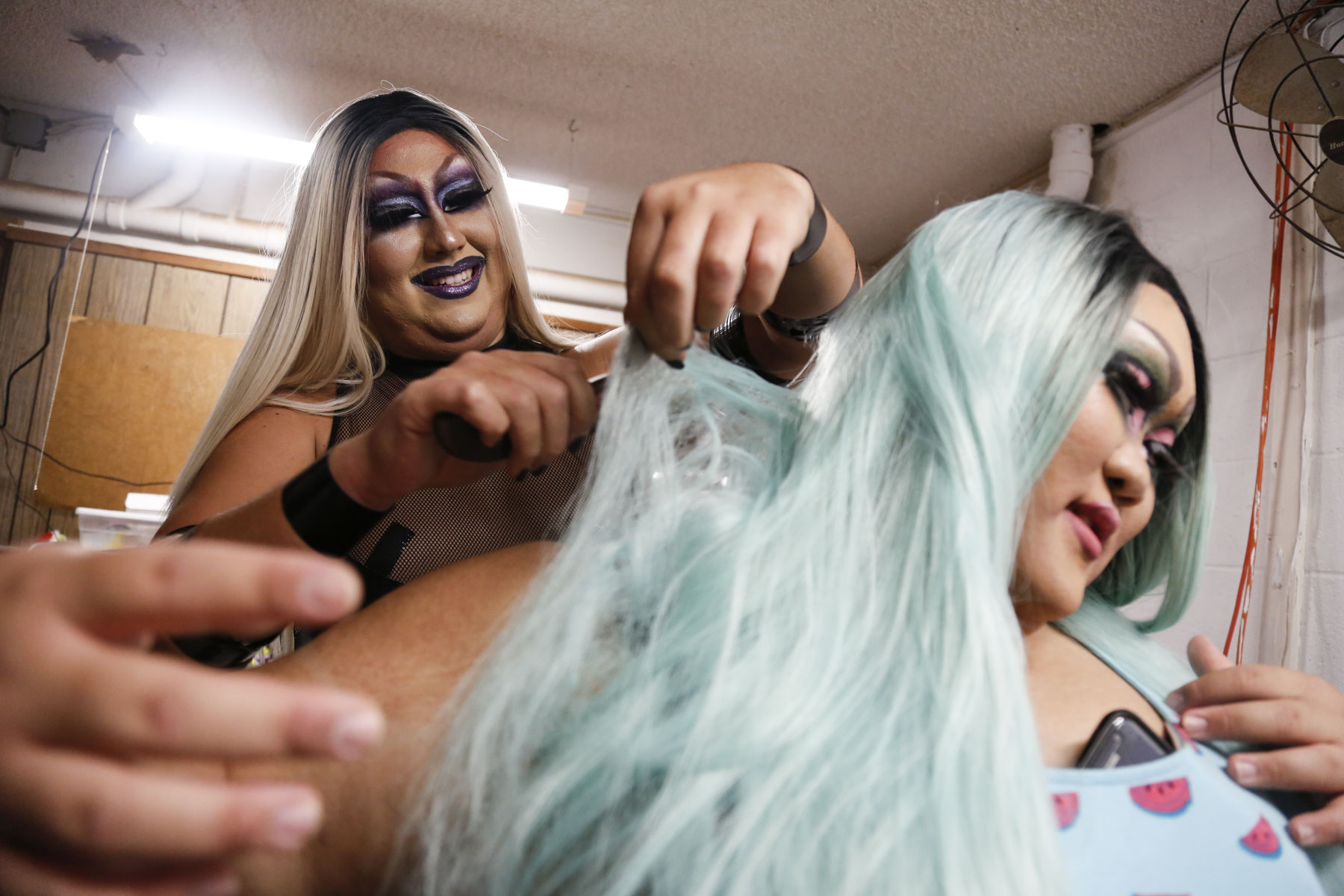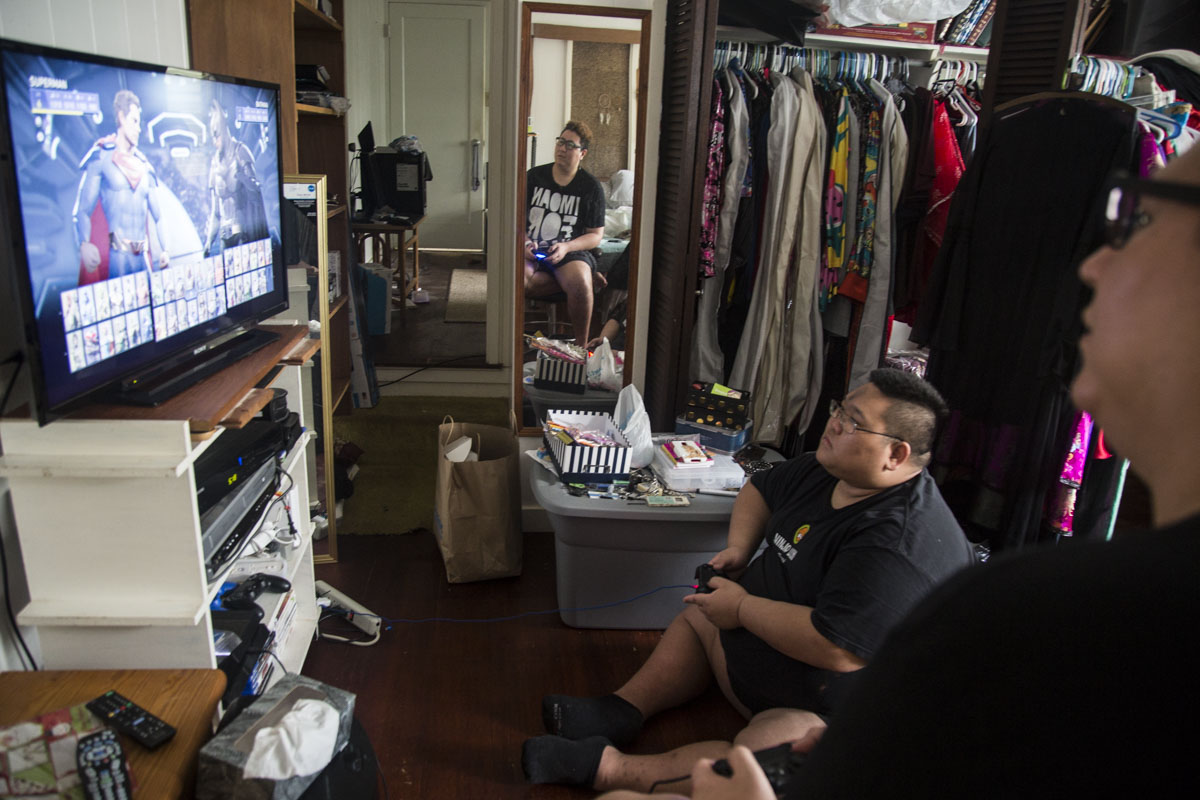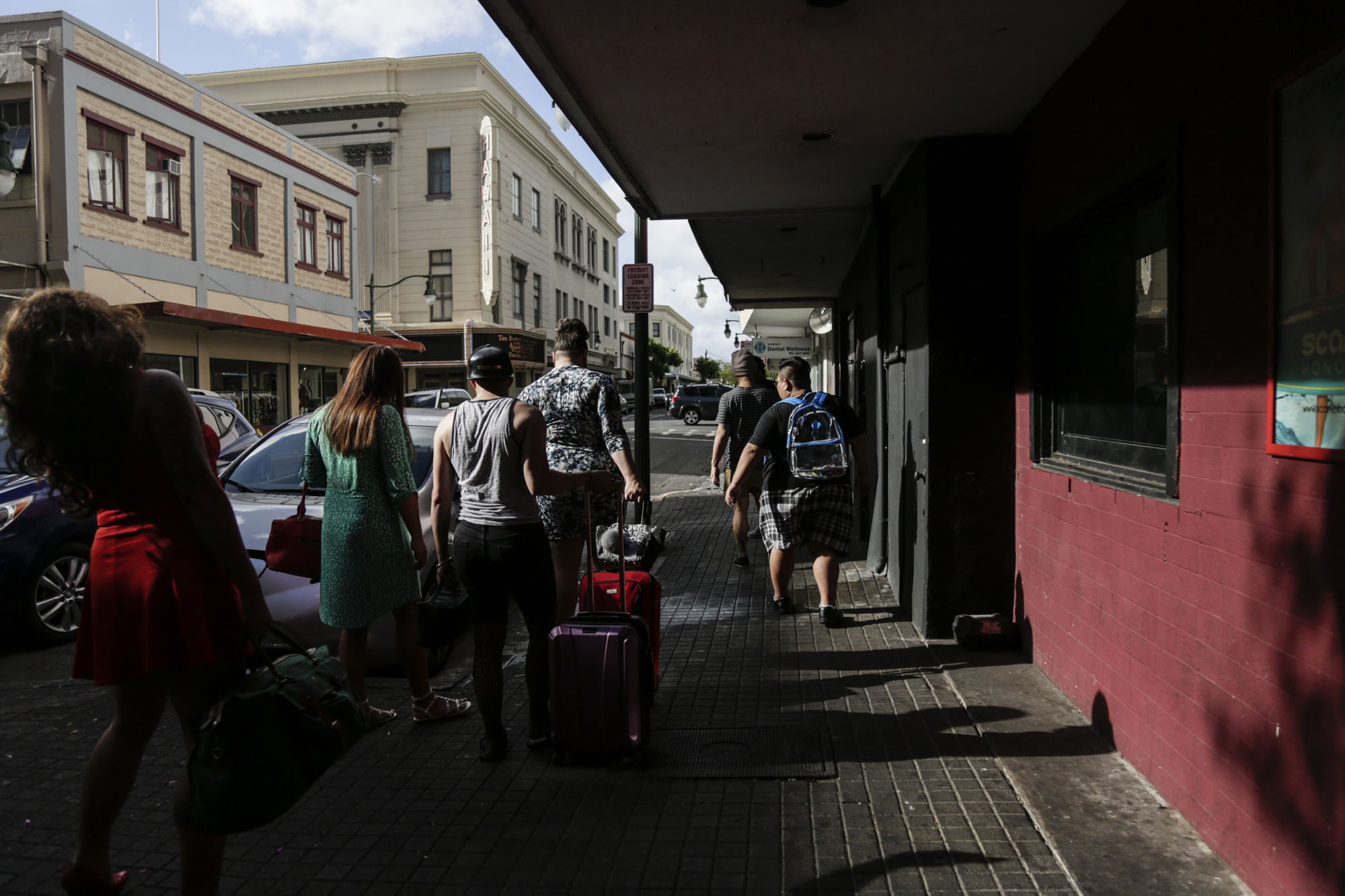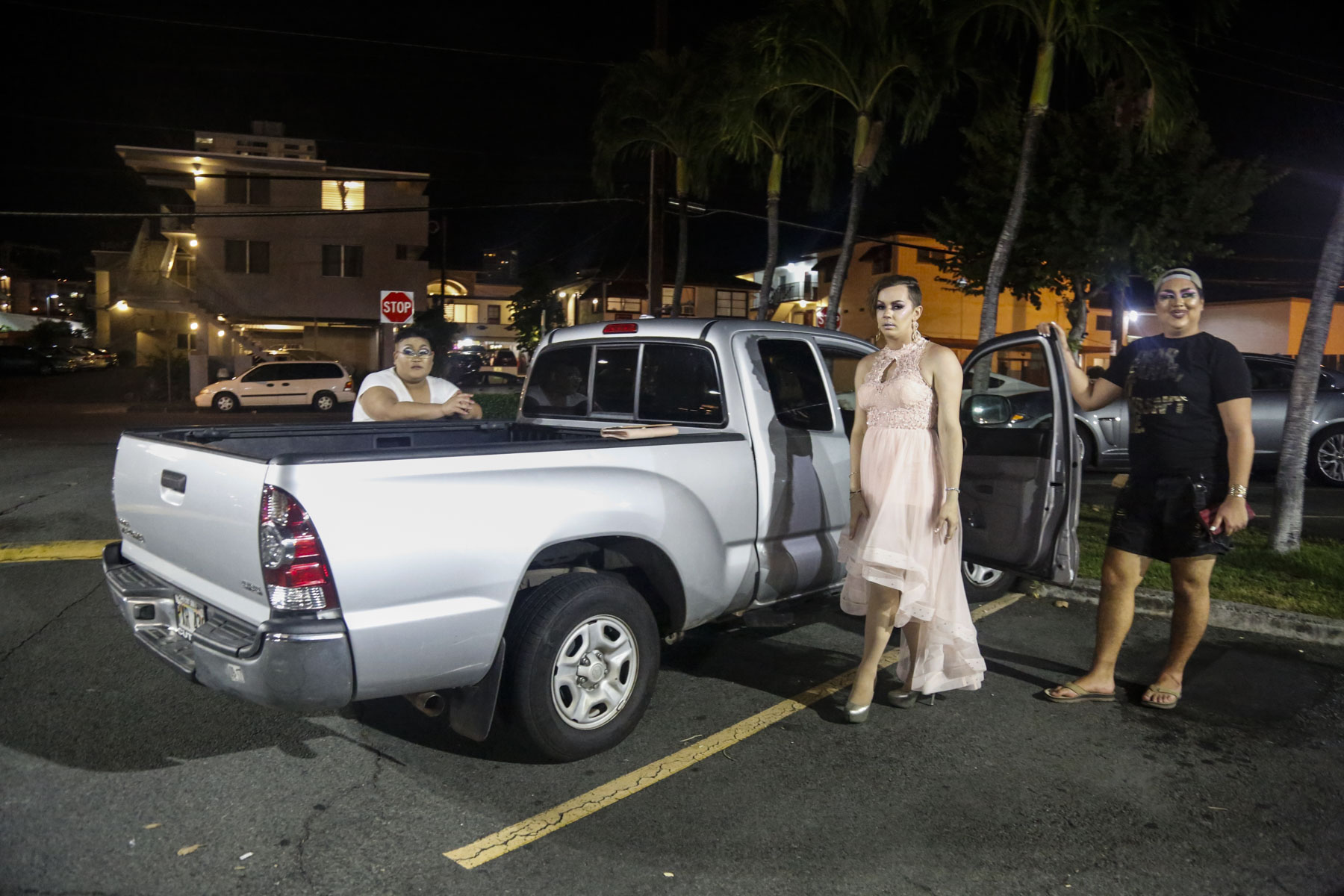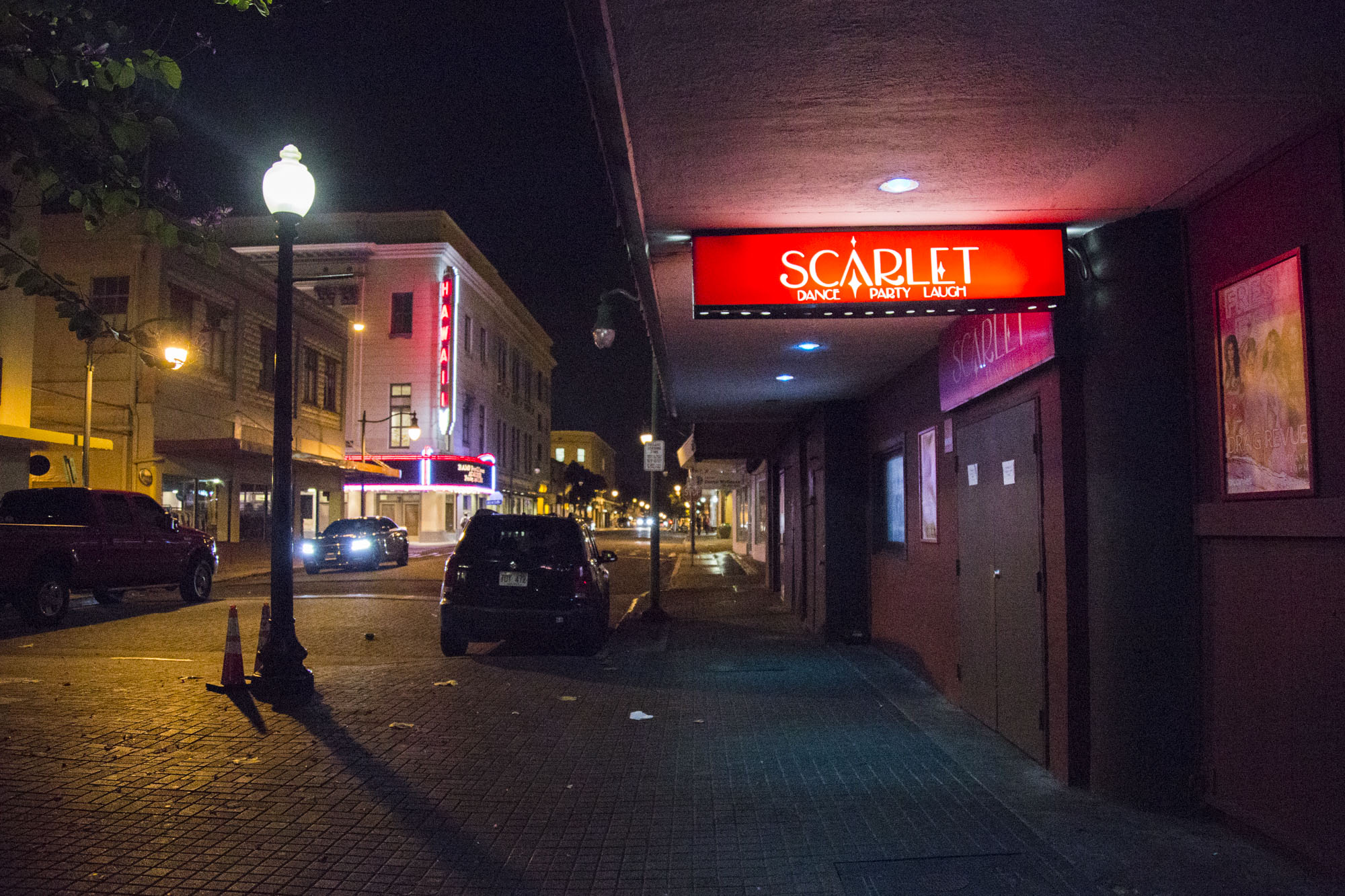 CHAPTER TWO
Chapter two of this series focuses on Lilith Satana, a middle generation queen who never felt the sisterhood of drag until recently.
Lilith Satana poses for a portrait in the dressing room of Scarlet Honolulu in Honolulu, HI. Satana has been doing drag for 4 years and was the first Miss Tiki at Scarlet Honolulu. "It was like your unconventional bitch winning. I proved to everyone that I could do it and now I'm representing those kids that are fucked up and told that they can't make it. It was a weird thing having the crown because I got punished from the outside for having it. People thought it was rigged and they were telling me that I only won because of my father. I didn't wear the crown much not because I wasn't proud of it, but because I didn't wanna receive the weird backlash."
Lilith Satana rides the bus in order to get to his drag brunch gig at Scarlet Lounge. Many queens prefer to not take the bus in drag, but Satana is willing to do whatever it takes to get to a gig.
Lilith Satana tucks before going onstage for the premiere performance of his group, Diamonds in the Muff. It often takes a lot of physical effort to go into drag-- even leaving bruises and scars on the bodies of performers. Satana is a middle generation queen who has been in the entertainment industry his whole life. When in boy as Augusto Tulba, Lilith is the son of Hawai'i's beloved comedian, Augie T. Because of this, Satana works incredibly hard to prove a point that he wasn't handed anything to him by his father.
(From left to right) Zanaiyah Cage, Sarina Sena Daniels, Kalista Fox, Lilith Satana and Aria Del Rey hold hands and say words of encouragement to one another before the premiere performance for their group, Diamonds in the Muff. Satana, the leader of the group, says that he's never felt the sisterhood of drag until now. He's struggled to hold the respect of many queens since the beginning of his career and is now starting to get recognized for his talent.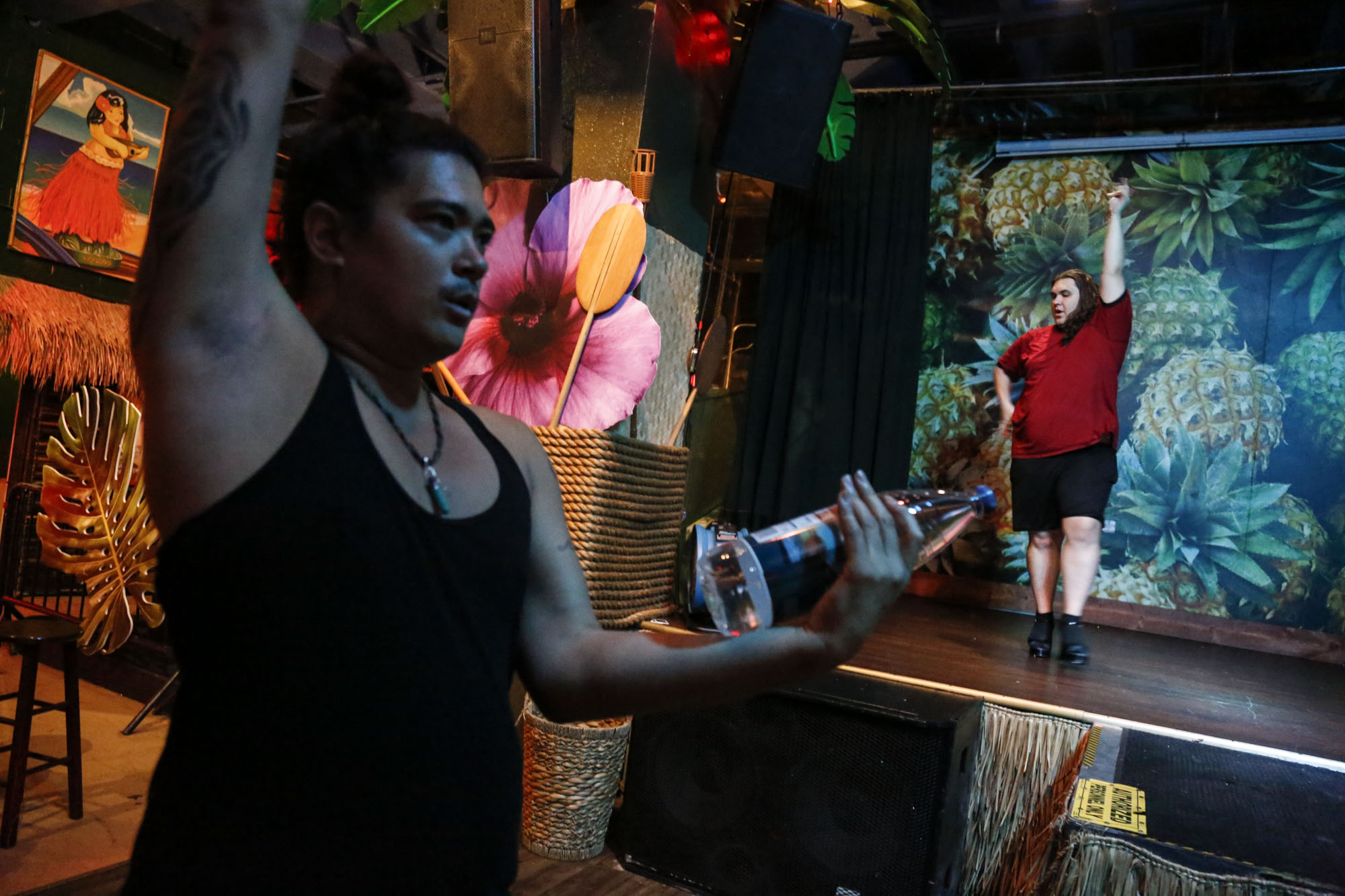 Lilith Satana (left) and Kalista Fox (right), otherwise known as Hoku Akana III, practice for their first performance as Diamonds of the Muff. Since their premiere performance, the group has gone from 5 performers to only 3 after an altercation within the group.
Satana, dressed up as Mother Mary for his Diamonds in the Muff performance, poses for a portrait in the Scarlet Honolulu dressing room. "My drag is a play on everything inappropriate that people don't want to see. Lilith was built off of the things that people said were wrong or ugly about me. I decided to turn those negative comments into storylines for my performances. If they think I'm fucked up, let me have those fucked up performances."
Satana poses for a portrait with his brother, Tajh Tulba, who's also a drag queen and hair stylist.
Satana in his boy form of Augusto Tulba working on the Augie T radio show with dad, Augie T. Behind Satana are pictures of his step-sister, Mahealani, who competes in beauty pageants on the Island. "I'm the one the jokes are about in my dad's sets. The reason why I do everything to perfection is because I grew up in with my dad in the industry. He's cool with it, but doesn't quite understand my drag. My brother's gay and does drag as well. My dad is used to his kind of drag which is more feminine and beautiful, while I like to look problematic."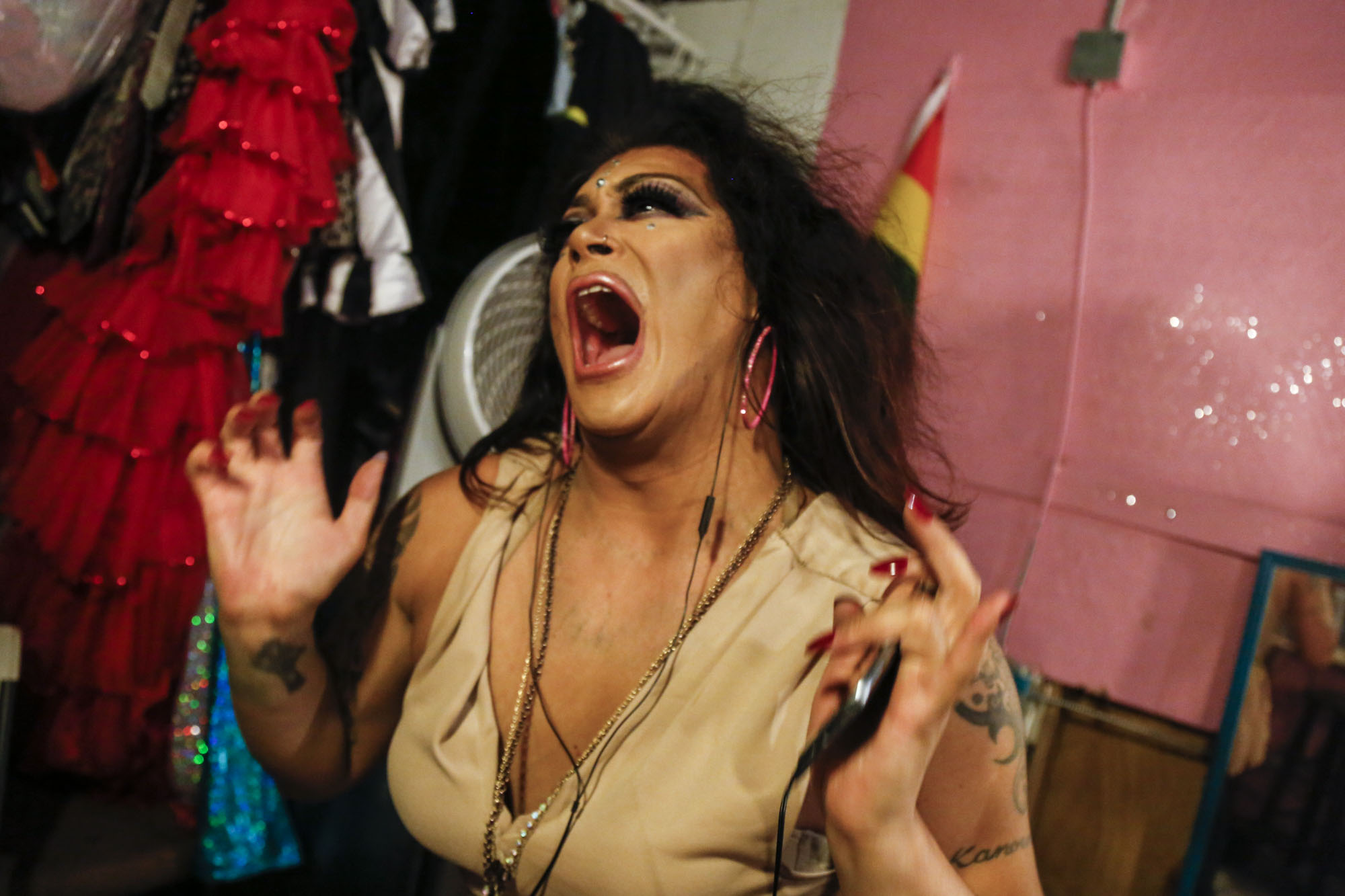 Satana practices in the dressing room before a performance. "In my head, I'm always thinking that I have to do better and nail my performances every single time. For Augie T being my dad, a lot of people want me to fail. They all think that things are given to me, but honestly, our relationship is only now starting to get really good. He accepted that I'm gay and a queen, but ever since I was a kid, we've never gotten along. We decided to come to a compromise and began to finally bond once we realized that we were really alike. But no matter how hard I work, people always think it's because of him. When I'd apply for jobs, even if I had managerial experience, I always had to work from the very bottom up to show people what I was worth. I always had to work three times harder than everyone to gain only minimum respect."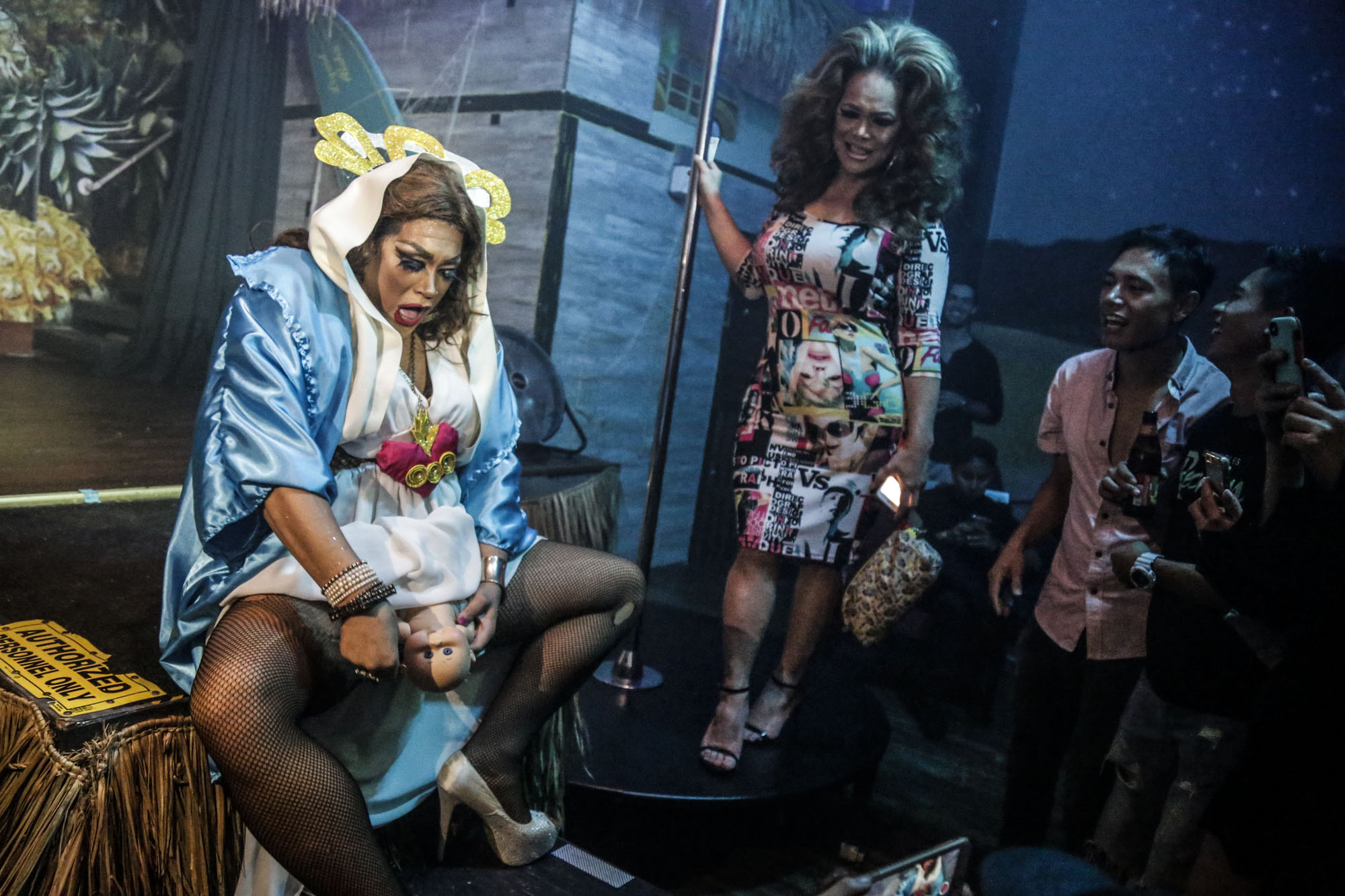 Satana pretends to push out a baby as Mother Mary during his Diamonds in the Muff performance at Scarlet Honolulu.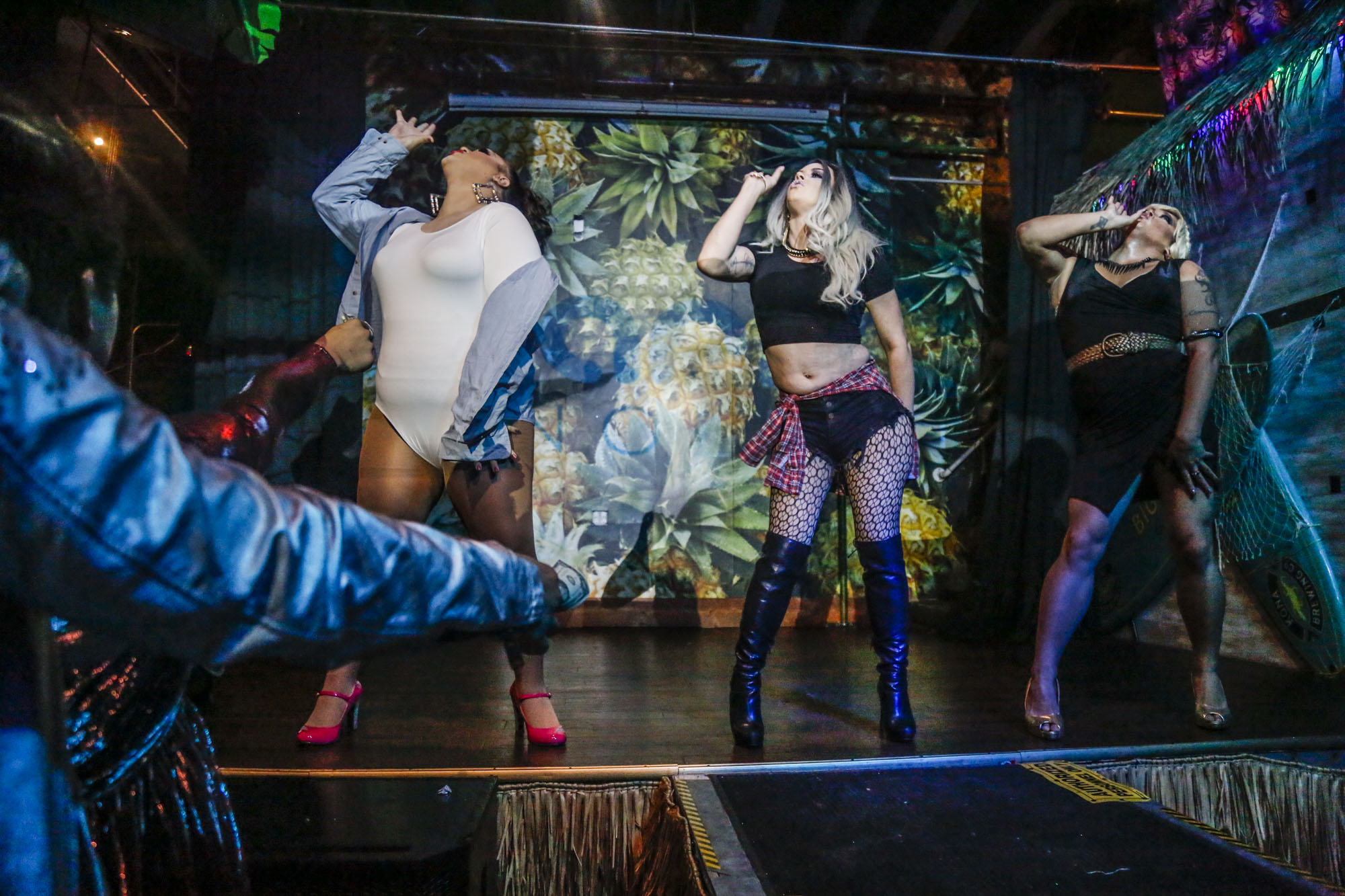 The current cast of Diamonds of the Muff, (from left to right) Kalista Fox, Aria Del Rey and Lilith Satana, perform their "Patron Tequila" number at Scarlet Honolulu.
(From left to right) Aria Del Rey, Satana, and Apple Aday laugh together over dinner after a long night out at Marina Del Rey's "Drag Prom" event. "I learned drag on my own, but it doesn't mean that I don't have a drag family. I don't have a house, but I have my sisters around me and they're a great support system. We genuinely see things in each other and invest our time and love to push each other to the next place."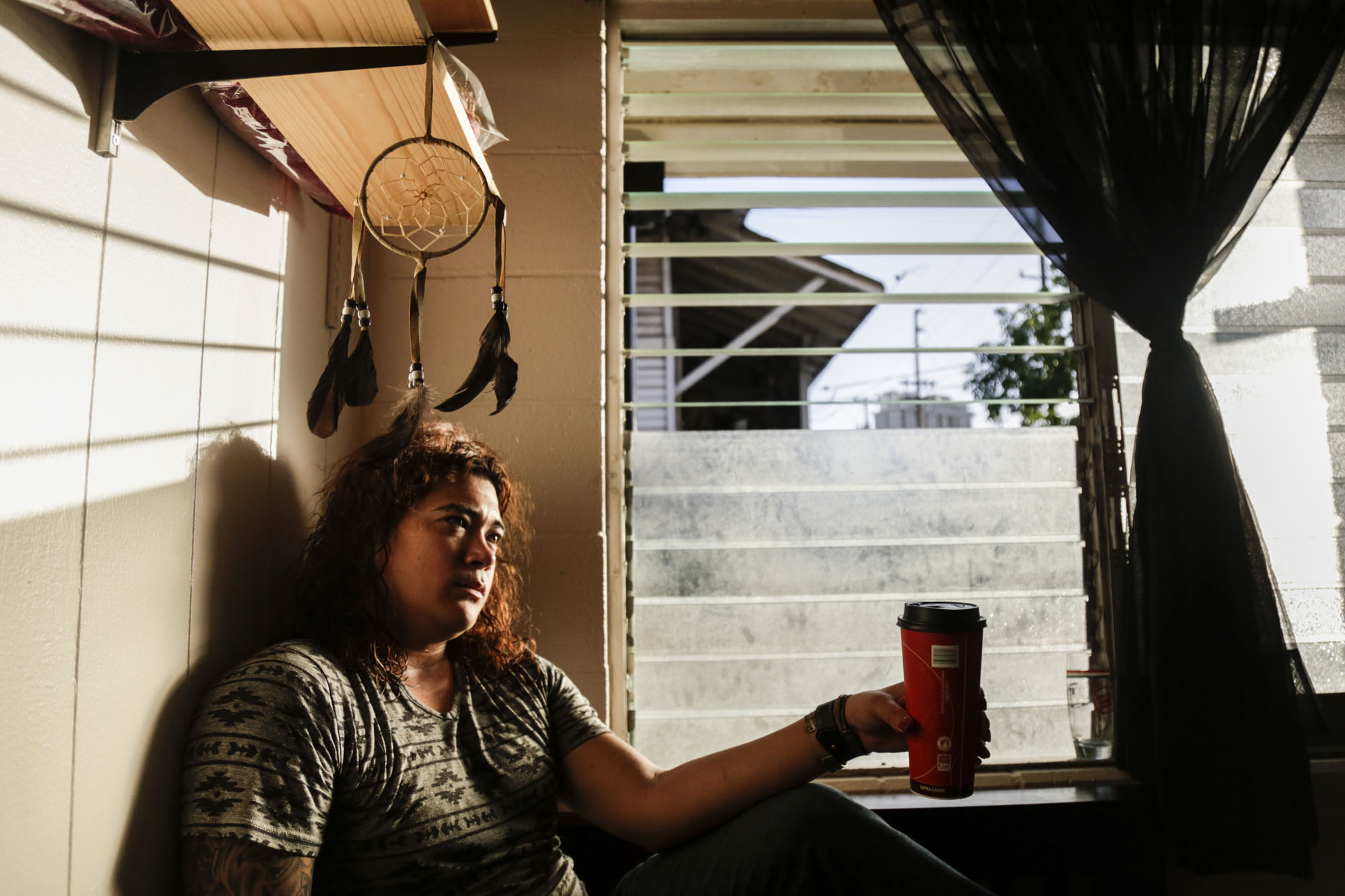 Satana, in boy as Augusto Tulba, poses for a portrait in his Honolulu, HI home.