To most, Hawaiʻi is seen only as a paradisal fantasy. This romanticization overshadows the realities of Hawaiʻi, causing media and entertainment to paint kamaʻaina (local residents) and Native Hawaiians inaccurately. Because of this, Hawaiʻiʻs history and local culture are unbeknown to those outside of the islands. One aspect often overlooked is Hawaiʻiʻs LGBTQ+ history.
In the 60ʻs and 70ʻs, many trans women and drag performers worked for The Glades, a club in Chinatown known for its elaborate shows. They were loved and adored until Hawaiʻi was forced into statehood. After this, peoples attitudes towards the LGBTQ+ community began to shift. Because of this, trans women and drag queens were required to wear "I'm a Boy" buttons on the streets by law. If they were found without it, they were fined and arrested. Rampant violence and death occurred around this time, with around 30 people from the community said to be murdered.
Things were much different in Hawaiʻi prior to colonization. In Native Hawaiian culture, when one is māhū, they are valued and seen as caregivers, teachers and healers. While the term can be used in a derogatory manner today, many people within the Native Hawaiian and LGBTQ+ community in Hawaiʻi still see the power in it.
During my research and time spent with O'ahu's current māhū and drag queen community, I've learned that these beautiful subcultures have only had little documentation. My main goal with this project is to change that by preserving the memories of todayʻs performers in Honoluluʻs LGBTQ+ scene through photographs and interviews.
G Dolce
""When I lived on the mainland, I didnʻt see so much unity. It was like every person on their own. Here in Hawaiʻi, we have a community where everyone helps each other. My brother is a drag queen in Panama and is a big part of the community down there. He was so inspired by our community that he took what we have back there. He wanted them to come together like ours and they did. All the girls from RuPaul that we get to meet all experience the same thing."
Candi Shell
"Drag is channeling a magic outside energy known as Candi Shell. Itʻs this really special thing that I feel like Iʻve been given access to. There have been times in my life where Candi Shell has almost dictated my life. She brings all the different parts of my life together. I feel like doing drag is probably an ancient impulse. Especially in this patriarchal society that we find ourselves in. Weʻre missing all of this goddess energy, but we have the god energy. Drag queens summon the goddess."
Victoria Li
My familyʻs from here, but I started drag in DC. I could never get any bookings in DC, and not for lack of trying. The community is so open and welcoming here. The audience knows what they like, but theyʻll still watch you if you do something different. Thereʻs more respect here for what we do.
Lala Benet
"I want my drag to be activism. I want it to propel LGBTQ+ rights and human rights. I came here when I was 18 years old and I came out into this community. These were the first people that I felt comfortable around. They loved me and accepted me for whoever I was and whoever I wanted to be. That holds a very special place in my heart. In other places, Iʻve definitely see a difference in the community."
Apple Aday
"That feeling of ʻOhana is really strong in the drag community. We all help each other out and weʻre all there for each other. Thereʻs always pettiness in the gay community and people being superficial, but the drag community is a little bit more together. We are those misfits and weirdos, those artists that didnʻt fit in into any of those tribes."
Aria Del Rey
"Drag has helped me be a better me. The only reason why I move so far along in my drag is because of my sisters helping me. Itʻs definitely the Aloha. You feel it."
Lolita
"When Iʻm Lolita, I feel very comfortable and free in my skin like I was made for this. Even though Iʻm pinched, stretched, and painted, itʻs still my skin. Iʻve never really felt like a typically beautiful person. Drag gives me an opportunity to really make myself exactly who I want to be, which is almost a glamorous, large doll. I really shaped [Lolita] after the women in my life who have shown my unconditional love, like my mother and best friends. Theyʻre beautiful women who love me for who I am, even though Iʻm different. Iʻve kind of always wanted Lolita to be that woman who loves you for who you are because she loves herself for who she is. Hawaiʻiʻs drag scene is very reflective of the culture here. We have a very strong sense of family, one that runs deeper than blood. I feel very proud to be a part of that. Somebody would give you the jacket off their back to help you here."
Jason Victorino
Drag in Hawaiʻi is a little different because weʻre diverse. You see Samoan queens, Asian queens, and other different cultures. There was always Māhū Wahine, so itʻs a part of our culture. I think thatʻs why itʻs normal and why we donʻt look down on it.
Water Melone
"Before I started doing drag, there was a lot of trans pageant queens and bar queens. It used to be very fish and pageant, and now itʻs a little more campy, avant-garde, and out there. The newest generation are all the girls who learned from RuPaulʻs Drag Race. Weʻve seen what drag can do for you, so weʻre all kind of aspiring for that."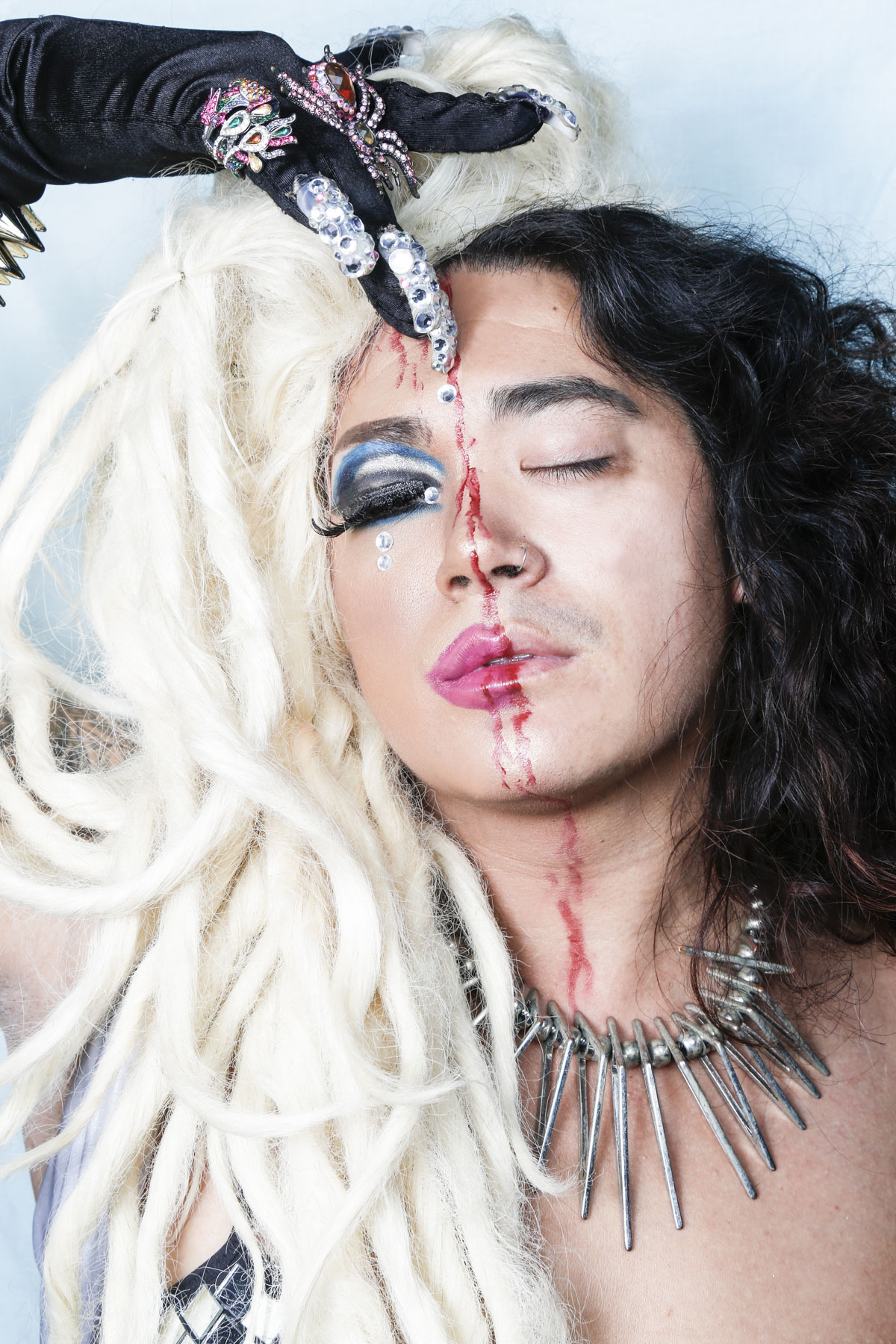 Lilith Satana
"Lilith helps me deal with a lot of my own personal, internal issues. I hope that whatever I can express in drag and put on stage maybe connects me with someone who feels the same way. In Hawaiʻi, you have a specific level of sisterhood. You respect your elders, but also acknowledge the up and coming. At the end of the day, whether youʻre gay, a drag queen, lesbian, bisexual, or transgender, weʻre all in the same family. We fundraise for each others pageants and weʻre there for our sisters when they need us. Whether itʻs giving them a place to stay for the night or helping them sew a dress. We always remember where we came from and honor the ones who fought for us to get here."
Marina Del Rey
"Hawaiʻiʻs drag scene has evolved a lot over the years. Some for good, some for not so good. Before, the girls had to work to create something. They created these stages, they created this magic. The fact that we even have a scene thatʻs come out from the shadows is great for the kids. What everyone had to go through to get to this stage is nothing that a lot of these kids are privy to know yet. I donʻt see a lot of the girls doing that now. I think [drag has] gotten lazy, but at the same time, itʻs also gotten more brave. I think that we are where we should be in drag. I see a lot of creative kids now, but in this generation, thereʻs no reason that there shouldn't be more. I think that wherever you go, the oddballs get together and pull together."
Sarina Sena Daniels
"Where I grew up on Big Island was very country and rough. I went to a rough school and theyʻd beat me up and burn me with cigarettes. My grandma was never supportive. I wanted to be a girl, but she didnʻt teach me how take care of my hair and make-up. I thought that being transgender was a way out because they wouldnʻt beat up a girl. I started hormones when I was 11. I was one of the first on the island. There were no laws protecting me then. Sarina is different than my real identity. Sheʻs the hero I always knew when I was young. Nobody stood up for me when I was getting the shit kicked out of me, so I created Sarina. Sheʻs a protector."
Janna Del Rey
"Hawaiʻiʻs drag scene has definitely evolved because more than one or two looks are being seen now. Iʻt more about being glamorous and loud rather than fishy. I love the whole community here. Weʻre all family."
VV Vixen
"Drag is going inside yourself and finding the feminine, fabulous side and unleashing it on everyone. Itʻs shaped my life in so many ways. I live my life in beauty because of drag. I look at the world more beautiful. Itʻs taught me how to harness and use all sides of myself to the best of its ability."